Consumer Focus Wales calls for mobile home support network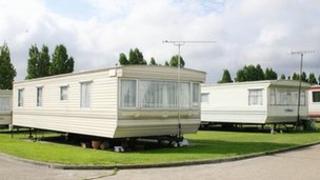 Local authorities in Wales should work together more effectively to protect the rights of people who live in mobile home parks, a watchdog has said.
Consumer Focus Wales (CFW) says there should be an information network to ensure consistency across the country.
There are thought to be 3,500 mobile homes on 92 residential sites in Wales.
The Regulated Mobile Home Sites (Wales) Bill to which intends to better protect vulnerable park home residents is currently being debated by AMs.
The proposals acknowledge the benefits of local authorities working together, but CFW says the bill does not require local authorities to work together to implement a new mobile homes licensing regime.
Lowri Jackson, policy manager at CFW, said: "We think that more effective regional working should be strongly encouraged and organised by a formal network of local authority leads across Wales.
'Expertise'
"We strongly believe that a more collaborative approach would have the huge advantage of concentrating expertise and helping to ensure national consistency and transparency for the new licensing regime."
Residents of mobile home sites suffer unscrupulous, intimidating or even criminal behaviour from site owners and operators, a watchdog report claims.
Consumer Focus Wales found many people thousands of pounds out of pocket due to high rents, poor maintenance and site operators blocking home sales.
The Welsh assembly will consider proposals for reform later this month.
But a park operators' group said most were law-abiding and that authorities should enforce existing laws.