Ash tree disease Chalara dieback is found at six sites in Wales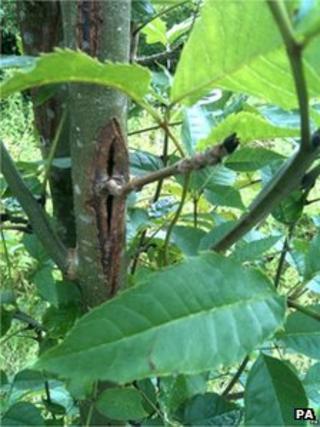 Forestry Commission Wales says a disease which kills ash trees has been found at six newly-planted sites.
Chalara dieback of ash has been confirmed at five sites on Forestry Commission land in Wentwood and the Wye Valley in south east Wales, and at Glynllifon college in Gwynedd.
A survey of other sites recently planted with ash from known infected nurseries is continuing.
Earlier this month the disease was discovered in Carmarthenshire.
Chalara dieback of ash is caused by a fungus called Chalara fraxinea.
The Welsh government said it is taking the threat very seriously.
It said officials were working with partners in the Forestry Commission (FC), Defra, The Food and Environment Research Agency (FERA) and the devolved administrations in Scotland and Northern Ireland on a UK-wide response to the threat chalara poses.
"Tree diseases do not respect country boundaries and we need to provide a consistent approach to this threat," said environment minister John Griffiths.
As part of that response FC Wales attended a tree health summit in London to help develop an action plan to manage the disease in the UK.
Key objectives for that plan include reducing the rate of spread of the disease, developing resistance in the native UK ash tree population and encouraging the public, landowners and woodland industry to get involved in tackling the problem.
The UK government is also working on a longer term solution.
There is already a ban on imports and movements of ash plants and seeds into and within Great Britain.
"I believe the action we have taken to date is the proportionate response at this stage," added Mr Griffiths.
"This is a rapidly developing situation however and I intend to keep the position under review in order to respond quickly to any new information that might require us to adopt a different approach."