A55 at Bangor closes as 70mph winds batter Wales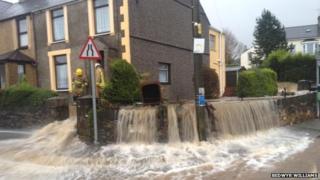 Flooding has caused the closure of the A55 dual carriageway at Bangor, Gwynedd, as gale force winds and rain batter the country.
Winds of 70mph have been recorded at Capel Curig in Conwy, and 62mph in Aberdaron, Gwynedd - and the Met Office warns there is worse to come.
Roads are flooded, trains are disrupted and dozens of trees are down.
Five people were taken to hospital after a car was flipped over by strong winds at Milford Haven, Pembrokeshire.
The stationary car was thrown against the front of a branch of Barclays bank on Hamilton Terrace just before midday, Dyfed-Powys Police said.
The people in the Peugeot 206 were taken to hospital but are not thought to have been seriously hurt.
On the same road, a sign on the front of the Lord Nelson hotel was ripped off and blown through a front bedroom window, police added.
The Environment Agency has issued several flood alerts, one warning, and has warned of winds gusting over 90mph on the Gower peninsula in Swansea.
Unofficial wind speeds of 100mph have been recorded on Snowdon, Gwynedd.
The weather has caused disruption around the country:
There are reports of flooding on major roads including on the A55 across north Wales, the M4 motorway in south Wales and the A40 Fishguard Road in Pembrokeshire.
North Wales Police said the A55 dual carriageway is closed between junction 12 at Bangor and junction 11, Tal y Bont, while the road at Capel Curig is also flooded.
The Conwy Tunnel westbound is shut, which is causing traffic problems.
The main railway line between Bangor and Anglesey is also closed due to flooding, while there is disruption on the First Great Western line between London Paddington and Cardiff Central.
Gwyneth council said it had called in extra staff to deal with problems caused by the weather, while sandbags are being distributed to properties at risk of flooding.
The weather has also delayed the opening of Cardiff's Winter Wonderland where Only Boys Aloud were due to perform.
James Trott, from New Quay, Cardigan Bay, told the BBC about the moment an oak tree crashed into his garden.
"At 05:30 GMT we heard a massive crash and looked outside to see our big old oak tree narrowly missing our house and falling in our garden," he said.
"It has smashed our fence down and our dogs are going crazy. We are getting 70 mph winds here and the rain is horizontal at the moment.
"We are very near Aberystwyth where the caravan camp sites were badly flooded last time so I really fear for them if this weather carries on."
Flooding risk
BBC Wales meteorologist Derek Brockway said up to 50mm could fall in some spots, with winds gusting at 50-70mph.
He said there could be localised flooding as rain falls on already saturated ground.
Mr Brockway warned further strong to severe gale force winds could cause problems for people travelling.
"It is something to be concerned about," he said.
"A very active cold front is going to move through so that is going to bring some intense rain.
"We're looking at 20mm of rain, just under an inch, but one or two spots could get 40mm to 50mm," he told BBC News.
"[There are] strong to severe gale force winds so that's going to cause problems for travelling. Looking at 50-70mph gusts.
"There is a risk of some flooding."
National Coastwatch Institution volunteer John Kavanagh told BBC Wales the sea at Worm's Head was "like a cauldron" and he had never seen the sea "so dark".
"We've got waves lashing over the Worm's Head, which I've never seen before," he said.
The enhanced content on this page requires Javascript and Flash Player 9
Map Key
Land
Cloud
Lakes, Rivers & Sea
Fog
Light
Heavy
Frost
Light
Heavy
Pressure Fronts
Cold
Warm
Occluded
Rain
Light
Heavy
Extreme
Snow
Light
Heavy
Temperature tab only
Temperature (°C)
More details from BBC Weather