Benefit reforms could increase homelessness, warns housing group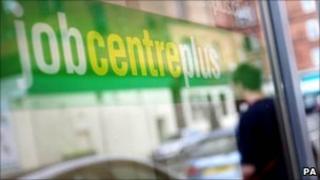 Homelessness could increase and more people may turn to loan sharks if welfare reforms go ahead, a housing organisation says.
Community Housing Cymru (CHC) launched a campaign to warn people of impending changes to the benefits system.
Wales' housing minister said the Welsh government would have to "pick up the pieces" if UK government reforms leave people worse off.
But the UK government said vulnerable people would be protected.
The Universal Credit will replace most existing benefits and limit the total amount of benefit that claimants can get.
CHC has warned any savings generated by the changes would be far outweighed by the cost of people losing their homes.
It has joined forces with other charities to urge people to seek advice, saying many people would not be aware that welfare reforms could affect them.
The UK government's Welfare Reform Act also introduces a so-called "bedroom tax" in the social rented sector.
Tenants with spare bedrooms will see their housing benefit cut when the change is introduced next April.
The UK government's own impact assessment calculates that 40,000 households in Wales will be affected.
Welsh Housing Minister Huw Lewis told BBC Wales he was concerned that authorities in Wales would be left to handle any resulting problems.
He said: "My greatest fear is just that; that the Welsh government, that Welsh local government and the third sector will have to pick up the pieces, the casualties if you like, of these precipitous changes that are a complete re-moulding of the welfare state in terms of housing benefits."
'Alarmist'
A spokeswoman for the Department for Work and Pensions said: "We are carefully working with councils and housing associations in Wales as our welfare reforms are being introduced to ensure vulnerable people are protected.
"Alarmist claims about the effects of welfare reform are simply scaremongering.
"Our reforms will see housing benefit claimants in the social sector facing the exact same decisions about the size of home they can afford as those in the private sector - or as any working family does. This will create a better and fairer use of social housing."
The Right Reverend John Davies, bishop of Swansea and Brecon, said: "Homelessness, or the threat of homelessness, will cause huge disruption for families across Wales and for society at large.
"Everyone deserves a roof over their head and anything that impacts on that is socially destructive."
Nick Bennett, group chief executive of CHC, said: "In 2009 we launched a campaign about the dangers of high interest lending because there was an estimated 150,000 people in Wales using high interest door step lenders and a further 15,000 using loan sharks."
One claimant - Andrea, 48, from Cardiff - told BBC Wales she was worried about how she could afford to keep her home under the changes.
She lives in a three-bed house with her 19-year-old son, who acts as her carer. He receives Job Seekers Allowance and not a carer's allowance.
Andrea has a number of health issues which effect her "movement, balance and comfort".
She said if her son finds a job she would be without help and they would be hit by a large non-dependent deduction to go with the bedroom tax shortfall.
"This really is our family home. We like the property and the area suits us well, close to both my friends and support and close to my son's friends too," she said.