Profile of Redrow boss Steve Morgan: Timing is key to success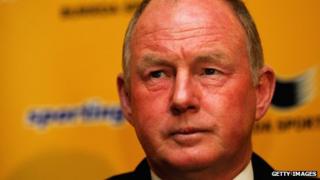 Earlier this week Steve Morgan, the chairman of Wales' biggest housebuilder Redrow, claimed parts of the country would become "no-go areas" if tougher building regulations are introduced. He argued that plans by the Welsh government to make new homes more energy efficient - aimed at delivering lower fuel bills and greater safety standards - will increase costs. This, he argued, could lead to affordable housing not being viable in areas such as Wrexham and the south Wales Valleys. Sarah Dickins takes a look at the man behind Redrow.
Steve Morgan may be a multi-millionaire now running one of Wales' few companies quoted on the stock market but he often refers back to his roots - laying sewer pipes in north Wales.
That was before he set up Redrow in Flintshire 1974 and built his first house in Denbigh in 1982.
Throughout his business career Mr Morgan, who this week said parts of Wales would become "no-go areas" if tougher building regulations were introduced, seems to have had a finely tuned sense of timing.
In the late 1980s when house prices in the south-east of England soared he decided they'd risen too far and left the scene, selling land for around £7m. Just weeks later property prices crashed.
I first met and interviewed Steve Morgan in the early 90s when Redrow was growing quickly.
The company prided itself in developments with a wide range of housing styles, creating street scenes.
Financial crisis
By 1994 Redrow was a UK-wide business worth around £300m and Mr Morgan floated it on the stock exchange.
I remember asking then what would happen to Redrow if its founder ever left. It was just six years later in 2000 that he decided he wanted a change, left Redrow and moved away.
What became pertinent years later was that he kept an 8% stake in the company.
Because he was a a major shareholder, Redrow's new management team made regular presentations to him about how the business was faring.
The financial crisis of 2008 hit the housing sector hard.
Many house builders suffered and some medium-sized companies went to the wall.
Redrow posted losses of just under £200m. Mr Morgan says that moment was a terrible blow and he could see the writing on the wall for the company if it wasn't turned round quickly.
I met up with him again to find out what made him return to Redrow plc.
Hardly changed in the 12 years or so since I last interviewed him, he told me: "It was like seeing my baby in real trouble and I decided I had to come back.
"I just couldn't see what had taken me 25 years to build up destroyed.
"I'd been through recessions before and I knew what to do and what not to do."
Mr Morgan says his return to Redrow's headquarters at Ewloe in Flintshire in 2009 was very emotional.
He couldn't believe how it looked - weeds through the concrete, dirty offices and a closed staff canteen.
He says he was mobbed by the receptionists as he walked through the doors and he set about getting the place clean, painted and, most importantly, got people busy again.
"We addressed everything. There was far too much borrowings when I came back so we had to address that," he said.
"We got rid of stock. We've had to take some big hits on some of the land deals we've done because land prices have dropped dramatically, and went out and bought some new land.
"[We got] the cash back in first of all to give us the capital, we did a rights issue which really put a lot of cash injection into the company and set up and bought new land.
"It's the benefit of the new land coming through which has now turned the business around but we've attacked the market really hard."
By 2010 Redrow had turned a £140m loss into a £700,000 pre-tax profit, which rose to £25.3m in 2011 and £43m in 2012.
Mr Morgan, now chairman, had worked his magic once again.