Black Eyed Peas wear Amy Thompson's unusual designs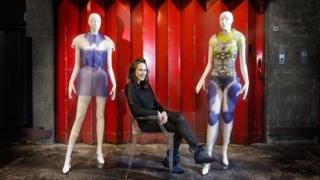 Former fashion graduate Amy Thompson has seen her designs from packaging material used as styling by American hip hop stars the Black Eyed Peas.
The hand-carved creations by the 27-year-old, from Swansea, were worn by Fergie during the band's world tour.
Ms Thompson, whose work has also graced fashion catwalks in Paris, was invited to a show to see her designs on stage.
She said it was "surreal" seeing Fergie "wearing something that I've made in my back room in Sketty".
Armour
For her day job, Ms Thompson is part of a team that dresses the windows of the Debenhams store in Swansea's Quadrant Centre.
But in her spare time she has become a cottage industry in her unusual garments and accessories made from polypropylene, a tough and durable thermoplastic often used as packaging.
She said: "What I make is a bit like a suit of armour.
"It's all hand cut using a scalpel or craft knife and some of the pieces incorporate lenticular technology which plays around with creating shifting colours and patterns."
Ms Thompson has an MA in fashion bodywear from De Montfort University, Leicester, and a first in contemporary applied arts at University of Cumbria in Carlisle.
She moved to Swansea after meeting writer husband Garan Spiller on holiday.
She said: "My work is unusual but I like to do something unexpected. I'm not sure I'm going to start wearing it around Swansea any time soon although it might start a trend.
"I would love to design for more celebrities and perhaps my look would suit the likes of Lady Gaga, Jessie J and Katy Perry."
Debenhams is arranging for Ms Thompson to experience working in its design department in London.
Quadrant Centre store manager James Loxdale said: "Amy is a hugely talented designer.
"Hopefully the experience she has with us here in Swansea and at our head office will benefit her because she certainly has an incredible eye for design and for using materials."