Cardiff and Bristol airports 'work together on tax' call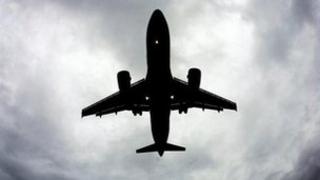 Cardiff and Bristol airports should work together to get air passenger duty for all airports outside London lowered, a Bristol spokesman has said.
It follows a report by the Silk Commission which recommended tax-varying powers for Wales, including devolving air passenger duty.
Bristol said it could suffer a fall in passengers if Cardiff reduced duty.
Cardiff Airport welcomed the Silk report but has declined to comment on the Bristol proposal.
James Gore, Bristol's head of communications, told BBC Wales that the west country airport had "common cause" with Cardiff on the issue of air passgner duty and should collaborate to lobby the UK government.
"We should be joining together to argue for a lower rate for all airports outside London," he said.
"I think you can do that on the basis of making best use of capacity. The majority of London airports are operating at capacity.
"We need to find better ways to use the existing capacity across the UK and that can go some way to rebuilding the economy of the nation."
'Dramatic and damaging'
The Silk Commission has examined how the Welsh government should be funded in the future, including taking partial responsibility for income tax collection in Wales.
It recommended that smaller tax varying powers should be devolved first, including air passenger duty on long haul flights, stamp duty on houses and the aggregates levy paid by quarrying businesses.
Responding to the Silk report, Spencer Birns, head of commercial operations at Cardiff Airport, said: "The ability to control long haul air passenger duty rates is just one tool in the armoury we have to improve air passenger services to and from Wales and increase passenger traffic."
But Bristol Airport chief executive Robert Sinclair said allowing the Welsh government to cut air passenger duty on Cardiff flights could have a "complex, dramatic and damaging effect" and may break EU rules on state aid.
His colleague Mr Gore said HM Revenue and Customs estimated that Bristol could lose up to 25% of its passengers by 2020 if air passenger duty in Wales were lowered for all flights.
He added: "All we ask is we're operating on a level playing field and if there was a price differential just down the road then that wouldn't be the case."
Cardiff Airport declined to comment on the Bristol proposal for a joint campaign on duty saying they had not heard about it directly.