North Wales Police 'pressure' over big cases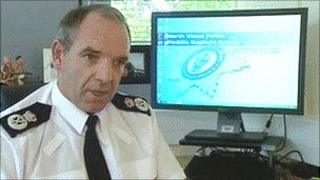 The chief constable of North Wales Police has warned that the force is under "increased pressure" because of the number of major incidents recently.
Mark Polin said officers were working on three murder cases, including that of vet Catherine Gowing and five people in a house fire in Prestatyn.
He said he was concerned it meant that other crimes "may not be brought to justice as quickly".
"Our detective pot is close to being empty," he said.
Mr Polin was speaking at the last meeting of the North Wales Police Authority, which closes on Wednesday to hand over to the newly elected Police and Crime Commissioner Winston Roddick.
He said the force has four major investigations taking place at the moment: the murder of 37-year-old Miss Gowing; the deaths of five people in a house fire in Prestatyn; a murder in Bala and the death of a woman in Wrexham following an arson attack on her car.
Clive Sharp, 46, from Bethesda, Gwynedd, has been charged with the murder of Miss Gowing, from New Brighton, Flintshire.
Melanie Smith is charged with the murders of Lee-Anna Shiers, 20, her 15-month-old son Charlie, nephew Bailey Allen, four, niece Skye, two, and partner Liam Timbrell, 23, who died in a house fire in Prestatyn.
Julius Hecko, 23, has been charged with killing fellow Slovakian, 42-year-old Branislav Gula in Bala.
A youth has been arrested and released on police bail pending further inquiries following arson of Dorothy Dudley-Smith's car. The 78-year-old later fell ill and died in hospital.
"I have never known us to be so busy with major investigations in all the time I've been with the force," said Mr Polin.
"It means that some offences may not be brought to justice so quickly."
Mr Polin added that despite arrests and charges, large numbers of officers are still needed to prepare evidence and investigate each of the cases further.
He also said North Wales Police had put extra patrols in place in the areas where all four major incidents had taken place in order to reassure the public.
Officers were also being drafted in from other parts of the force to provide support.
But the chief constable also reported that overall crime is down in north Wales.
He said that in the period April to October 2012, all recorded crime was down 10.5% compared to the same period in 2011.
The chairman of the North Wales Police Authority, Alun Lewis, thanked the officers of the force for their hard work at a difficult time.
He said: "I know the hours that some of these officers are working, and they deserve our thanks."