S4C viewers complain farmers' eisteddfod 'racist' and 'sexist'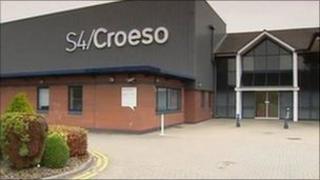 S4C is investigating complaints of alleged racism and sexism following a broadcast of the Young Farmers' National Eisteddfod.
A number of viewers of the Welsh language channel complained about comedy sketches in the live broadcast from Fishguard on Saturday.
Dafydd Rhys, content director at S4C, said they took complaints "seriously".
The farming group claimed it was "innocent fun" and apologised for any offence caused.
One sketch which attracted complaints showed two members of the eisteddfod impersonating Chinese men.
Another showed a man wearing a pair of fake breasts and impersonating a woman.
"S4C is conducting an investigation into the whole matter. We've been in discussion with producers this morning," said Mr Rhys.
"We take the complaints seriously and if we come to the conclusion that the contents has caused offence, then we have to do something about it."
The programme has also been withdrawn from S4C's on demand service Clic while the investigation is ongoing.
The eisteddfod was also broadcast live on BBC Radio Cymru.
The BBC said it would not be making a statement on the issue.