CBI wants education changes to boost pupils' workplace skills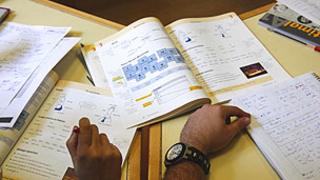 Business leaders say England can learn from Wales' education system in improving pupils' workplace skills.
The comments come as a report from the CBI says some UK schools have become "exam factories" and calls for children to be given a broader education.
The head of the CBI in Wales said the Welsh government was moving in the right direction where education is devolved.
But a teaching union official said there was still some way to go.
The CBI report says Britain could add 1% to its annual growth rate if its teaching could be improved to the standards of the best in the world.
And it recommends the development of new vocational A-levels.
'Radical'
"I think actually we can learn from Wales," said Emma Watkins, director of the CBI in Wales.
"We have got challenges in our education system here in Wales but I think that we should be proud of the focus on the educational improvement we have had from Welsh government.
"And some of the things that we are calling for in our report from the CBI, the focus on pre school learning, the move away from exams at 16, the Welsh government are already looking at this," she told BBC Radio Wales.
The Welsh Baccalaureate qualification, known as the Welsh Bacc, teaches a core of subjects such as maths and languages and gives students the chance for work experience.
Rebecca Williams, policy officer at Wales' teaching union UCAC, described the Welsh Bacc as a positive, saying it "combines the academic subjects with more real world type skills".
"I think there are some positives for Wales out of this but I think that some of the criticisms do ring very true for for teachers in Wales," she said, describing the curriculum as "overloaded".
A spokesman for the Department for Education said a radical package of reforms will give "England's education system the thorough overhaul it needs".