Prof John Tulloch, 7/7 London bomb survivor, wins fight to stay in UK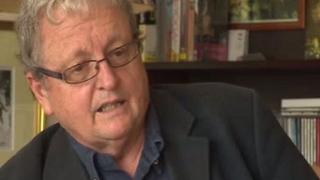 A professor who was injured in the London 7/7 bombings has won his fight to stay in the UK.
Prof John Tulloch, who lives in the Vale of Glamorgan, once held a British passport and has spent most of his life living and working in the UK.
However, he said he had been told he was no longer entitled to remain in the UK indefinitely.
The Home Office confirmed on Sunday that Prof Tulloch had "applied for citizenship and it was granted".
Prof Tulloch was born to British parents in India before independence but - unknown to him - this conferred a lesser form of British nationality known as a "British subject without citizenship".
He said his British passport was confiscated in the 1990s after he had gained Australian citizenship.
Earlier this year, he said he was warned he could no longer permanently remain in Britain.
However, he said after his story was reported in the media, his case began to progress, and he submitted an application for citizenship on 9 November.
He told the Telegraph newspaper: "By Tuesday of last week, they'd made a decision, which included a police and tax check. I was astonished at how quick it was.
"They are sending me information as to where I can get the [oath of allegiance] ceremony done, and once I have that I can apply for a British passport.
"I still haven't really taken it in. I'm just now realising what I can do. I can come and go whenever I like, I can work for money. It's incredible."
The son of a British Army officer, he was raised and educated in Britain from a young age, and has lived or worked in the UK for most of his life.
He said several generations of his family had served the country with distinction.
Prof Tulloch was one of hundreds injured in the 7/7 blasts in 2005 when four suicide bombers attacked central London, killing 52 people.
He became a symbol of the country's resilience after his picture was published in the media after the 7/7 attacks.
He was also visited by Prince Charles in hospital.
Shards of shrapnel were embedded in his face and he has suffered symptoms of post-traumatic stress disorder.
He told the inquest into the 7/7 deaths that he was partially shielded from the blast by the luggage at his feet.
Prof Tulloch previously said the uncertainty over remaining in the UK was worse for him than 7/7 because he had been "lucky" on that day.