Plaid Cymru leader Leanne Wood considers constituency option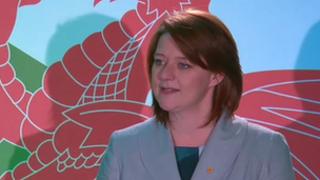 Plaid Cymru leader Leanne Wood has confirmed she is considering standing for the Rhondda constituency in the 2016 assembly elections.
Regional member for South Wales Central Ms Wood said last week she would leave her relatively safe seat and "go for broke" in attempt to get into government.
The Rhondda-born AM confirmed her decision to BBC's The Wales Report.
She said Rhondda was "a potential option".
The assembly has 40 first-past-the post constituency members and 20 regional members.
Candidates are barred from standing for a constituency and in one of the five electoral regions at the same election.
"It's one of the options I'm looking at and there has been a fair bit of speculation as to which constituency I'll contest but there's a lot weigh up and for me the feeling of the grassroots members is particularly important," she said on Sunday.
Ms Wood previously stood as a parliamentary candidate in Rhondda for Plaid Cymru in 2001 but she lost out to Labour's Chris Bryant.
Standing as an assembly candidate for the area means she could face the incumbent education minister, Leighton Andrews.
Ms Wood, who was born and raised in the south Wales valleys, said the time of "safety first politics" was over and she wanted to increase the number of seats her party holds in the assembly.
"I'm not going to put a number on it," she said.
"We clearly need to improve on 11 seats. We can do a lot better than that and we believe that we are working very hard to put together a programme of government which is going to be exciting."
Plaid won 11 seats at the last election, making it the third biggest party behind Labour and Conservatives, who have 30 and 14 AMs respectively.
The Wales Report is on BBC One Wales at 22:25 GMT on Sunday 18 November.