BBC's Children in Need show raises nearly £1.3m in Wales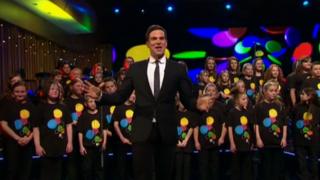 The BBC's Children in Need appeal has raised just under £1.3m in Wales - marginally lower than last year's record total.
Presenter Gethin Jones hosted proceedings in Wales alongside Wales Today presenter Jamie Owen from the Wales Millennium Centre, Cardiff Bay.
Stars taking part included comedian Chris Corcoran, performer Sophie Evans and Opera singer Wynne Evans.
The show beat last year's total and £26.8m across the UK.
Head of Children In Need in Wales Marc Phillips said he was "hugely grateful" to the fundraising public.
"Last year was an increase of something like 25% over the previous year so to have maintained that position in the current economic climate is truly staggering and we are taken aback and hugely grateful for the generosity of the public," he said.
He said the small gap compared to last year's total was "not so large a gap to be statistically significant".
"We're doing extremely well, I'm absolutely delighted with the outturn," he said.
"It was clear from the phone calls we were getting during the day [Friday] that there had been no decline in the numbers of people, the number of organisations, schools, workplaces, community groups, pub clubs, everybody, getting involved in various ways."
Mr Phillips said organisations that will apply for funding will be "assessed rigorously".
"We are confident that the projects that we fund are robust and have the maximum impact on children who really need our help," he said.
"It's remarkable what people can achieve with two or three thousand pounds."
Sir Terry Wogan hosted the BBC One event on Friday with Fearne Cotton, Tess Daly and Radio 1's Nick Grimshaw.
Girls Aloud and One Direction performed live, while BBC Newsreaders took part in a Top Gear challenge and Lord Sugar starred in an EastEnders special.
The final total is expected to be higher than the £26,757,446 raised on Friday night once all donations are in.
In Wales, the money raised on the night was just under £1.3m, compared to the record £1,389,923 raised in 2011.