Police commissioners: Poll challenge too great - Michael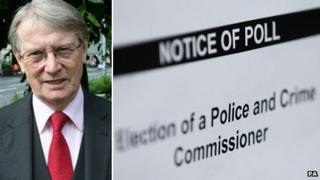 Wales' only Labour police commissioner says his party struggled to reach voters because there was no mail shot and the UK government failed to engage.
Former Home Office minister and Welsh assembly leader Alun Michael won south Wales, but Labour lost elsewhere.
Voter apathy marked the elections with turnout across Wales below 15%, but Mr Michael said the challenge was too big to get the message across.
Independents won Gwent and north Wales, and a Conservative took Dyfed-Powys.
A review is to be carried out into how the police and crime commissioners (PCC) elections were conducted, the Electoral Commission has said.
Ministers said a lack of familiarity and understanding of the role may be behind the low turnout.
Mr Michael resigned as MP for Cardiff South and Penarth, after a career in Westminster of 25 years, to run in the police and crime commissioner (PCC) elections.
The posts replace police authorities in all forces in England and Wales outside London.
They will have responsibility for setting budgets and hiring chief constables, but will not take charge of operational policing.
Mr Michael told BBC Wales: "I think what's happened in Wales is that where we were able to engage with people and meet the public... then people were convinced by our approach by the fact that we were determined to be tough on crime and tough on the causes of crime.
"And that they started to understand how this office of police and crime commissioner, about which we were doubtful, could be made with the right person to deliver benefit to the public.
"But unfortunately because you're talking about a million people [in the area]... that was far too big a challenge to be done without free mail, without the government creating the right context for the election."
Mr Michael said he expected an unpredictable election with a low turnout because of a UK government decision not to pay for information on candidates to be sent to every household.
The Home Office has said details about candidates were available online and were delivered to those who wanted them.
As expected, Labour retained his old parliamentary seat in a by-election held on the same day as the PCC elections.
Barrister Winston Roddick QC - the Welsh government's former top legal officer - was elected north Wales PCC, beating Mr Michael's son Tal in the process.
Former police officer Ian Johnston, an independent, won the election in Gwent where turnout was just 14%. At one polling station in Newport not one vote was cast.
The Dyfed-Powys election went to the Conservatives' Christopher Salmon who won a close contest against Labour former Welsh government minister Christine Gwyther.
Speaking on BBC Radio Wales, Mr Salmon said the turnout had been a disappointment.
"On a personal level it's disappointing because obviously you want to reach as many people as possible," he added.
'Democracy'
"It is a controversial election. It is the first time we've had an election of this nature and inevitably it takes time to explain the role and for people to get used to it.
"It is a sad fact, but it is also a fact of democracy."
Prof Richard Wyn Jones, director of the Wales governance centre at Cardiff University, said the turnout had been "humiliating".
"You can only classify these elections as a monumental embarrassment. Fifteen percent turnout is genuinely awful," he added.
"You do wonder if the system can ever recover from this humiliation. This is absolutely abysmal in terms of turnout.
"I have a great deal of sympathy for the successful candidates who are trying to talk up their role, but the problem is that every time they same anything from now on it's going to be pointed out rather rapidly that they're not speaking really for anybody."
Shadow Welsh Secretary and Pontypridd MP Owen Smith said: "We can recognise that it's a disappointment that we didn't win more of them, but the reality is we've had very low turnout as a result of people not knowing about them.
"The reason they didn't know about them is that the (UK) government chose not to explain properly what these elections were about and indeed who was standing."
Jenny Watson, Electoral Commission chairwoman, said the low turnout was "a concern for everyone who cares about democracy".
Prime Minister David Cameron denied the low-number of voters means the PCC role lacks a popular mandate.
He instead predicted that public interest would rise once the commissioners begin their work.