Police commissioners: Independents win two Welsh polls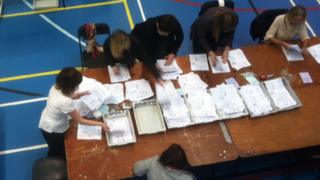 Two of the four elections for Wales' first police and crime commissioners (PCCs) have been won by independents.
Labour and the Conservatives won the other two contests.
But the election has been marked by voter apathy with a turnout across Wales of about 15%.
The independent winners were Winston Roddick QC - the Welsh government's former top legal officer - in north Wales, and former police officer Ian Johnston in Gwent.
The Dyfed-Powys election went to the Conservatives' Christopher Salmon and Labour's Alun Michael won south Wales.
Elections to appoint commissioners were held for all police forces in England and Wales outside London.
The Electoral Commission has said it will launch an investigation into the low turnout.
At one polling station in Newport, no votes were cast in the election for Gwent's PCC. Newport City Council has declined to confirm where the polling station is, but it is understood to be in the Bettws ward.
Mr Salmon won a close two-horse race against his Labour rival Christine Gwyther, a former Welsh government minister. He had a majority of 1,144.
First Minister Carwyn Jones had appealed for Plaid Cymru supporters in the region to back Labour.
In north Wales, Mr Roddick, who used to be counsel general to the Welsh government, pushed Labour candidate Tal Michael into second place.
Mr Michael's father Alun stood down as an MP to run in south Wales.
Alun Michael beat independent candidate Mike Baker, a former police officer of 30 years, after a second round of counting.
As expected, Labour retained Alun Michael's former seat of Cardiff South and Penarth in a parliamentary by-election held on the same day as the commissioner elections.
In Gwent, Labour conceded defeat while second-preference votes were being counted, handing victory to Mr Johnston.