Swansea City mascot inspires award-winning picture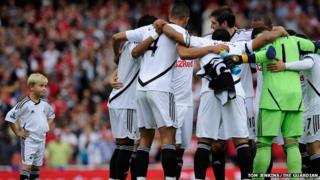 The man behind a picture judged as the best football photograph of last season says he cut his teeth as a student taking shots of everyday scenes in Newport.
Tom Jenkins, who this week won the Barclays best football picture of the 2011-12 season for his shot of a disgruntled-looking Swansea City mascot, learnt his trade at the former Gwent College of Higher Education.
He said he was encouraged not to take pictures of sporting action in his first year but instead was sent on seemingly more mundane assignments.
"The photography course was in documentary photography. It was fantastic," he said.
"I basically came from a sleepy town in Kent and coming to Newport opened my eyes to the world!
"The first year they wouldn't let me take any sport pictures at all, they just got me working every day shooting people in Newport from grave diggers to taxi drivers to watch repairers."
It stood him in good stead as the 44-year-old has enjoyed a successful career working as a sports photographer mainly for the Guardian and Observer newspapers.
His latest accolade was for a photograph of an irritated-looking Swansea City mascot before a Premier League match last season.
"It was a game against Arsenal and I was just getting ready for the game and I just saw this mascot and I couldn't believe the look on his face as the team had its pre-match huddle," he said.
'Innocent picture'
"He obviously said something to the players because Danny Graham [Swansea number 10 in the picture] is looking at him.
"You don't see a picture like that very often."
Mr Jenkins said Premier League football was often rather pressurised with news values dictating the pictures taken.
"It's quite an innocent picture," he said.
"So much now of my job is finding the news angle - the winning goal, the controversial decision.
"It's quite nice to win a competition with a picture like that even though it was such a momentous season in the Premier League with Manchester City winning [the title] in the last seconds."