Alun Michael is new south Wales police and crime commissioner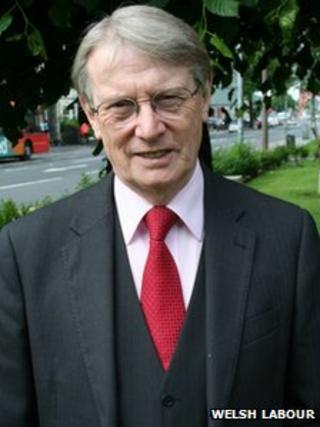 Former Home Office minister Alun Michael has been elected the first police and crime commissioner for the south Wales force area.
PCCs, as they will be known, will be responsible for setting priorities for their police force, overseeing its budget and hiring the chief constable.
Mr Michael's election was announced at a count in Port Talbot ahead of three other candidates.
He was up against a Conservative candidate and two independents.
Mr Michael resigned as MP for Cardiff South and Penarth, after a career in Westminster of 25 years, to run in the PCC election.
His son Tal was fighting the north Wales PCC seat for Labour but he came second to independent candidate Winston Roddick, a barrister and former senior legal adviser to the assembly.
Mr Michael is a former Welsh secretary, ex-Home Office minister and was the Welsh assembly's first leader.
He says his priority as commissioner would be to make sure that South Wales Police focuses its resources on making communities safe and free from crime, and ensuring police are accountable to local people.
"The challenge now is to pick up the new role, which has not been defined adequately as yet, and to make sure I add value to the work of the police and the work of crime reduction," he told BBC Wales.
"When you speak directly to people, once people have a chance of asking you about what you're about and what the role can be used to achieve, you get very positive results."
But he criticised the UK government for not explaining or promoting the elections, and for not allowing candidates to send material to electors through the post.
"I hope lessons will be learnt; the public will respect the elections if the government respects the public by allowing the elections to be organised properly," he added.
Other candidates included former police officer Michael Baker, standing as an independent; Caroline Jones (Conservative) and retired businessman Tony Verderame, another independent.
South Wales Police Federation congratulated Mr Michael, but said the low turnout meant the winning candidate had "no mandate for their views and no popular support for their position".
It said it would seek a meeting with him as soon as possible to combat "the dramatic slide in police morale".
Steve Trigg, chair of the South Wales Police Federation, said: "I'm sure we can constructively engage with him and seek to reinforce the currently much-maligned British policing model for the benefit of those we serve."