Majid Rehman: Cardiff cabbie drove at men 'in self-defence'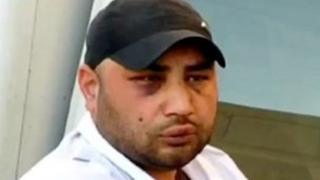 A taxi driver accused of using his black cab "like a bowling ball" to run down a group of men says he cannot remember driving onto a pavement.
Majid Rehman, 28, of Grangetown, Cardiff, is accused of deliberately using his taxi to run over six rail workers and two other pedestrians.
He argued with the railmen outside the city's central station, Cardiff Crown Court heard, and acted in self-defence.
He admits dangerous driving but denies 16 charges of causing injury.
The jury was told that a furious Mr Rehman deliberately drove "at speed" towards the men as they walked home after a row at a taxi rank.
Mr Rehman told the court he drove towards the men on 27 March after being attacked by them on the rank outside Cardiff central railway station.
The court heard that Mr Rehman told police officers at the scene: "No-one drives at people for nothing.
"They assaulted me and it was in self-defence."
Mr Rehman told the court the group of railway workers had spotted him sat in his taxi and punched him to the chest and shouted: "We will kill you and we will kill your brother."
Mr Rehman said: "I got into my cab to drive home and find my brother because I was really scared.
"I got to the traffic lights, I was so scared, and somehow my taxi collided with them.
'Kicked and stamped'
"I don't remember driving onto the pavement and I don't know why I did it.
"After the crash I was pulled out of the taxi by some of the railway gang and they kicked and stamped on my head."
Claire Wilks, prosecuting, said six of the men were leaving the railway station around 7pm and were wearing work wear - high visibility orange trousers and tops.
"Along the way some of the group began to argue with Rehman. There was ill feeling between them," she said.
"Eventually the group left the area. But it seems Rehman wouldn't let it be.
"He left the taxi rank and drove after the group of six railway workers - according to one witness even going through a red light."
Mark Underwood and Richard Partridge were walking in front of the group of rail workers on the pavement, the court heard.
'Significant burns'
Ms Wilks said: "As they walked away from the railway station, Rehman drove his taxi, and in a rage, mounted the pavement and collided with the group of eight men.
"It was a deliberate manoeuvre at some speed, knocking them down like a bowling ball knocking over pins in an alley.
"Some of the men were more fortunate than others."
Ms Wilks said Mr Underwood was trapped under the taxi and suffered significant burns to his back, legs and arms as he was wedged under the hot engine.
"It was a chaotic scene, emotions were running high, and Rehman was pulled out of his taxi and assaulted," she added.
The trial continues.