Unemployment figure drops 5,000 in Wales, latest figures show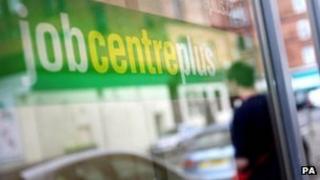 Unemployment in Wales fell by 5,000 in the three months to September, latest figures show.
The number of people out of work stood at 121,000 - down 14,000 on the same time last year.
Wales' unemployment rate of 8.2% compares with a UK average of 7.8%.
Figures released by the Office for National Statistics (ONS) last month showed unemployment fell 7,000 in the three months to August compared to the previous quarter.
Welsh Secretary David Jones said the extra 13,000 people in work over the quarter was a sign "that the private sector is beginning to drive growth in Wales".
Although there was more to do, he said: "We were right to stabilise the country's economy by focusing on cutting the deficit and allowing businesses greater freedom to develop."
The ONS said unemployment fell by 7,000 among men, but rose by 3,000 for women.
The number of people claiming jobseeker's allowance rose 700 to 80,700 during October.
Meanwhile, the Federation of Small Businesses (FSB) said its members could help tackle unemployment, but they needed clarity about the future of a scheme to help them pay their business rates.
Welsh Business Minister Edwina Hart is asking the UK government to extend a rate relief scheme for small businesses beyond March 2013 - something she was urged to do by a review she commissioned.
FSB Welsh policy unit chair Janet Jones said: "Given the contribution of the small business community to the employment market, decision-makers in Wales and Westminster must ensure that they are able to thrive."
Mrs Hart was due to tell a conference of entrepreneurs in Cardiff on Wednesday that a Welsh government scheme had helped start 4,350 businesses and created more than 10,000 jobs since July 2008.
She said unemployment was still too high and that young people in particular needed more help.
"The UK government needs to better promote growth as its economic policy based on spending cuts is not working," she said.
On Tuesday ministers said Labour's Jobs Growth Wales programme, which offers six-month contracts to under 24-year-olds, had created 4,000 job opportunities since its launch in April.
Liberal Democrat AM Eluned Parrott said falling unemployment showed the economy was "healing... but there must be no room for complacency".
Plaid Cymru hailed a deal it struck over the Welsh government's budget which secured an extra £20m to spend on creating apprenticeships next year, with the same amount pencilled in for 2014-15.