Affordable homes target at risk - Welsh Economic Research Unit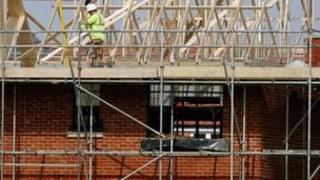 A target to build 7,500 new affordable homes in Wales by 2015 could be at risk if funding is cut, researchers warn.
The target can be achieved, but a predicted 40% cut in investment could jeopardise it, says the Welsh Economic Research Unit (WERU).
Its report said Welsh housing associations provided 1,973 extra homes in 2011/12, a quarter of the target.
The Welsh government said it had made an "excellent start" but admitted tightening budgets were a "challenge".
The report was commissioned by Community Housing Cymru (CHC), which says the Welsh government is predicting 40% cuts in social housing grants over the next few years.
Nick Bennett, group chief executive of CHC, said: "This report is proof that investing in our sector not only provides much-needed homes, but also acts as an economic stimulus.
"If current investment is not sustained, we are in danger of failing to reach the 7,500 target."
The Welsh government welcomed the report, and a spokesperson said it had made an "excellent start towards an ambitious target".
The spokesperson added: "However, we know that demand for affordable housing continues to grow and we need to deliver even more homes in future.
"With tightening budgets, this will prove quite a challenge but we are taking several innovative approaches to achieving these targets such as the Welsh Housing Partnership, which attracts private sector funding; better use of Welsh government and public sector land; co-operative housing; and community land trusts."
Details of a Welsh government-backed mortgage guarantee scheme to help first-time buyers and those wanting a bigger home were unveiled on Tuesday.