North Wales council leaders press for new prison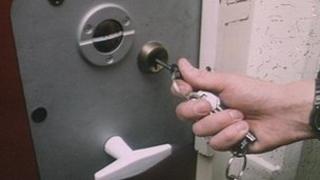 North Wales council leaders have met a UK government minister to try to keep the region on the map for a new prison.
They said they told Prisons Minister Jeremy Wright the area was "open for business".
A prison would create jobs and regeneration opportunities in the region, they stressed.
They said the minister told them the Ministry of Justice was negotiating with the Treasury for money to replace prisons.
The meeting was arranged by Welsh Secretary David Jones, who took a delegation to meet the prison's minister.
There had been plans for a prison near Caernarfon, but in September 2009 the then Prisons Minister Maria Eagle said there were potential issues with the site.
The site, best known as Ferodo and later as Dynamex, was "not suitable for prison development", she said.
The proposal had drawn both support and opposition, and ministers said they would try to identify "any potential new sites in Wales".
Then in March 2010 the Anglesey Aluminium factory at Holyhead was put forward by council leaders as one of six potential sites for a north Wales prison.
The delegation to meet the current minister was made up of three council leaders from Denbighshire, Gwynedd and Wrexham.
Hugh Evans, leader of Denbighshire, said a prison in north Wales would reduce the costs of public services and families, supporting offenders and improve the rate of rehabilitation of offenders.
"The minister told us that the Ministry of Justice is negotiating with the Treasury for monies to replace prisons in order to bring the cost of the prison estate down," he added.
Dyfed Edwards, from Gwynedd, said north Wales was the only region in the UK without a prison.
'Welsh culture'
"Many prisoners from north Wales are imprisoned too far from their families in an environment where their Welsh culture is not available to them," he said.
"This increases the risks of re-offending on release and self-harm in custody, particularly for young people."
Lessons had been learned from the "bitter experience" for the plans for a prison near Caernarfon, he added.
"We told the minister we will be flexible. We will meet the selection criteria of the Ministry of Justice for sites and will accommodate prisons from England in a north Wales prison to do so," he added.
Mr Edwards said the councils had demonstrated to the prisons minister that local authorities, the police and probation services had developed a strong partnership.
"We want a prison and we also want to develop innovative schemes that will see more offenders serving their sentences in the community.
"Dealing with low risk offenders locally will reduce costs to the public purse and maintain contact with professional and family support," he added.