North Wales Police 'take calls for busy ambulances'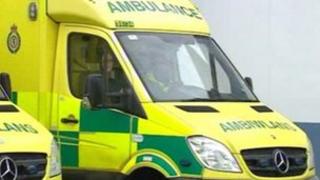 North Wales Police are being called to help people who need paramedics because ambulances are often too busy, according to rank-and-file officers.
North Wales Police Federation chairman Brian Robinson said officers were doing so regularly and sometimes did not know if or when ambulances would come.
The force and the Wales Ambulance Service said they were working to address the problem.
The chief constable said the number of incidents had dropped in recent months.
Mr Robinson, whose organisation represents lower ranking police officers, told the BBC it was not just that officers were left waiting for ambulances to arrive but were actually dispatched to accidents on occasion because there were not any ambulances to send.
"They are tied up at the hospitals and we are the only people that can actually help.
"I think as a sticking plaster, and that is literally what we are capable of doing with our medical aid, we can give first aid and CPR but we haven't got the appropriate equipment to do the intervention that's necessary," he said.
"Sometimes [people] are very seriously injured and needing treatment that we can't provide.
"When we're doing it on a regular basis, and we don't know if or if the ambulance is going to arrive, that's when the problems really arise.
"It's sometimes that's really frustrating for frontline officers, that they're left holding the baby and it isn't appropriate.
"We will do our best, as we always will in these circumstances, but what my worry is that out of misguided desire to do the best for people, officers could face discipline procedures or even worse, facing an investigation into a death in police custody."
'Close relationship'
Chief constable Mark Polin said officers were working closely with the ambulance service and local health boards to address the "underlying causes of the problems we have experienced".
"The number of adverse incidents between the organisations has decreased significantly in recent months and we are reviewing our resourcing plans for the busy Christmas period ahead."
An ambulance spokesman said: "The Welsh Ambulance Service and North Wales Police are working in partnership to address incidences where North Wales Police are awaiting an ambulance response.
"Both organisations are in frequent contact and are building on the close relationship in support of each other and their staff."
Last week, Health Minister Lesley Griffiths announced a review of the ambulance service following a row over funding, which will look at service performance targets including response times.
Currently, the service has a target of getting paramedics to 65% of the most urgent emergency calls within eight minutes, which it has not met across Wales for the past four months.
Ms Griffiths has said she is wants to increase these Category A response times target to 70%.
The Welsh government said in response to Mr Robinson's concerns: "The health minister and the local government and communities minister have discussed this issue with the Welsh Ambulance Service Trust and chief constables and are taking steps to improve the co-ordination of emergency responses.
"There are regular meetings between the chief officers that support close working between the blue light services."