Wales child abuse: Carwyn Jones criticises 'media hysteria'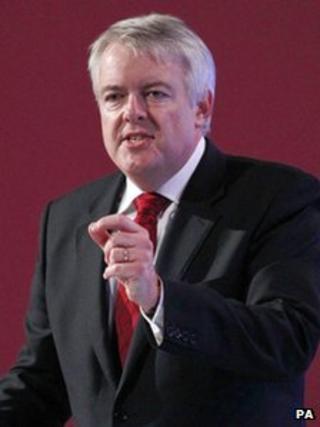 First Minister Carwyn Jones has criticised media "hysteria" in recent coverage of the north Wales child abuse scandal of the 1970s and 80s.
Mr Jones says he is worried the way allegations were handled in the press could put victims off coming forward.
The abuse scandal has received huge media coverage after one victim said the whole truth had not emerged.
Meanwhile, four north Wales AMs say North Wales Police should not handle a review into the evidence of abuse.
In a BBC Newsnight programme of 2 November, Steve Messham also said a Conservative politician from the Thatcher era had abused him a number of times.
Although not named by the programme, this led to incorrect speculation on the internet that the man in question was former Tory treasurer Lord McAlpine.
The peer denied the reports, describing them as "wholly false and seriously defamatory".
The BBC issued an unreserved apology for the Newsnight report and director general George Entwistle subsequently resigned.
The broadcaster is also beginning disciplinary measures against some of those involved in the decision to run the Newsnight report.
Speaking at First Minister's Questions in the Senedd on Tuesday, he said: "What we saw last week bordered on hysteria."
He said it was an "unfortunate situation" that a part of evidence submitted by one potential witness was found to be flawed.
"But that doesn't mean, of course, that all the evidence that's new is flawed," he said.
"The worry that I have is that the events of last week will discourage people from coming forward with credible new evidence, not just with regard to what happened at Bryn Estyn and other homes.
"And that will mean of course it may be it will be more and more difficult to get to the truth of what happened then and since."
'Completely transparent'
Meanwhile, four north Wales assembly members have called for independent police officers to be brought in to review the evidence of child abuse in the region, rather than staff from North Wales Police.
Aled Roberts, Liberal Democrat AM for North Wales, Ann Jones, Labour AM for Vale of Clwyd, Llyr Huws Gruffydd, Plaid Cymru AM for North Wales and Mark Isherwood, Conservative AM for North Wales, wrote to Mark Polin, chief constable of North Wales Police.
They wrote: "In view of the allegations made locally that North Wales Police were at the time complicit in a "cover-up", we do not believe that it would be appropriate for the force to undertake a review of the evidence.
"It must be stressed that we do not seek to question the integrity of North Wales Police officers with regard to the process, but we are anxious to ensure that investigations are completely transparent and that any historic allegations are dealt with through the involvement of a completely independent police force.
"In the circumstances, therefore, we ask that you consider requesting that independent officers should be responsible for reviewing the original investigation and any new allegations."