Estyn publishes guide to tackle pupil poverty in Wales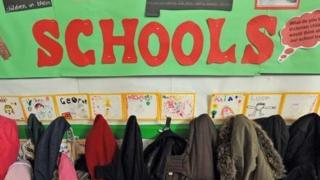 The schools inspectorate Estyn is publishing a guide to help schools tackle the impact of poverty on pupils.
The guide, based on case studies from across Wales, offers "best practice" advice for schools.
Estyn says research shows children living in poverty have lower aspirations and are more likely to face unemployment.
Ann Keane, chief inspector, said every child deserves the same opportunities "irrespective of their background".
She added: "Research shows that it is at primary school that some of these children become disenchanted with school, particularly boys.
"But we also know that these challenges are not insurmountable.
"There are practical steps that schools can take to minimise the impact of child poverty on our young people and ensure that they have the best possible start in life.
"The report we are publishing illustrates how a number of schools in areas of disadvantage are succeeding in bucking the trend and creating real opportunities for pupils to achieve well."
The report, Effective Practice in Tackling Poverty and Disadvantage in Schools, makes recommendations which include "establish partnerships with external agencies to give learners the right type or support," and "offer training and development for teachers so that they are better equipped and committed to tackling this problem".
Sue Hollister head teacher at Cefn Hengoed in Swansea - one of the report's case studies - said three quarters of their pupils live "in the 30% most deprived parts of Swansea".
She said nearly 40% received free school meals, but added: "That doesn't hold us back in any way. We're very very committed to inclusivity."