Former BBC governor Sir Roger Jones says scrap 'crazy' BBC Trust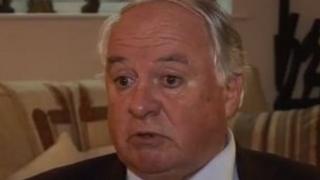 A former BBC governor for Wales has called for the BBC Trust to be scrapped in the wake of the resignation of the director general, George Entwistle.
Sir Roger Jones said the system for overseeing the corporation should revert to a board of governors, which was the model in place until 2007.
The trust was introduced to ensure "unprecedented obligation to openness and transparency".
Sir Roger told BBC Wales the trust's way of working was "crazy".
He said: "The BBC Trust should be scrapped as soon as possible and replaced by the former governance arrangements, in other words, go back to having governors.
"We sat in the same room as the executives and therefore could question and find out what was going on.
"I think it was a good system and this business of doing it at arm's length is crazy."
The trust replaced the board of governors in the wake of the Hutton Report in 2004, which highlighted problems with the governors' dual role as both the corporation's champions and regulators.
But another former governor of the BBC Merfyn Jones disagreed with Sir Roger.
"I can see where Roger is coming from on this, there has been delay and I'm sure some of the criticism sticks to the trust," he said.
"But all I would say is that the last time there was a major story there was no trust, there was a board of governors and the board of governors were criticised for being too close to management and what was required was to separate management and governance and that is why we have the trust and I have to say I very much supported that new architecture."
Mr Jones said editorial management within the BBC was the "issue" not the structure of governance.
Meanwhile, the BBC's acting director general has vowed to "get a grip" following the resignation of Mr Entwistle over a Newsnight report on child abuse claims at care homes in north Wales.
Tim Davie said he had set up a "clear line of command" in the news division.
The director and deputy director of news have been asked to "step aside" pending an internal review into the way claims about Jimmy Savile were handled.
The BBC is beginning disciplinary measures against some of those involved in the decision to run the Newsnight report.