Police and Crime Commissioner: Ex-PC on job's changes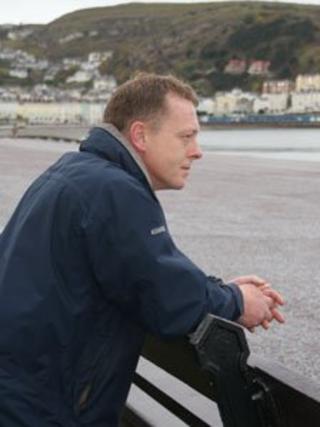 With the first Police and Crime Commissioner elections on Thursday, we are looking at aspects of modern policing the winners may need to address.
Standing at the end of Llandudno's Mostyn Street, recently retired PC Dave Parminter remembers the "good old days".
A Friday night on the beat would often involve a "bit of a roll about on the grass with a drunk before hauling them into the cells".
It is one of several patches he covered during a 20-year career, 14 years of it walking the beat. It is a job that has changed dramatically since he joined in 1992, and not always - in his opinion - for the best.
"I think with all the changes that have occurred... there's not enough police officers out there," he says.
"To have the boots on the ground... is vitally important - not only for the individual officer to gather intelligence, get to know his patch, get to know who's who, but also for people, in order that they can speak to a police officer."
One of the big changes of recent years is the introduction of Police Community Support Officers (PCSOs). While he does not blame the PCSOs themselves, Mr Parminter believes they "serve no purpose".
"You can wear a clown's suit, it makes no difference at all," he says.
"What you do need are trained police officers, not policing on the cheap".
He fears the police force is losing support and sympathy because of cuts made to the service, believes senior officers "need to get a grip" and "realise that you just can not withdraw officers from the beat and just put them in cars".
Asked what had been the biggest change since he joined the force, he says: "Attitude, certainly with younger officers coming in. The training methods have changed dramatically."
He adds: "When I joined you were taught to respect rank, you were taught to respect senior constables, and you were taught the law. More importantly, you were taught how to do paperwork and file preparation."
As voters prepare to go to the polls in the first Police and Crime Commissioner (PCC) elections, Mr Parminter, who retired in July, believes the service needs to change.
However, on the PCC election, he says: "I don't think we know enough about it.
"Everyone I speak to, they're not going to bother to vote. I'm not going to bother to vote.
"I think it's been rushed in. Not much thought has been given to it.
"I'm certainly concerned as to the relationship between the elected PCC and the chief constable because at the end of the day it's the front line who are at the bottom of this inverted triangle. They are the ones who are going to cop it."
He is also concerned about potential political influence.
"The police are impartial. You must remain impartial," he says.
'Their master's voice'
"I don't see any sort of impartiality if an elected candidate is backed by a major political party.
"Regardless of what they say... they're going to be listening to their master's voice.
"What happens then?
"Is there going to be conflict, is there going to be friction?"
He says modern beat bobbies are "trying their best to do the job, but they're under pressure from unfortunately senior ranking officers who are... out of touch with the reality of what's going on.
"With the forthcoming PCC elections what's going to happen there? It'll just be literally more and more pressure heaped upon these officers."
'Happy days'
He would like to see a return to the days when officers had the time to visit and speak to people, for instance in the town's stores on a Saturday afternoon.
"You'd walk round for about 10 minutes, have a chat with the staff, and when you were walking out you'd see piles of clothing dumped [after shoplifters spotted a police officer].
"Generally you stood there, people came up and had a chat with you.
"Those are days that I miss, but are days that are not going to come back I'm afraid."
Asked if he was simply looking at the past through rose-tinted glasses, he said: "We always hark on about the good old days and then the happy days, but they were good days, they were happy days. Morale certainly was a lot higher then that what it is now."