Wales child abuse: David Jones tells BBC 'tackle journalism'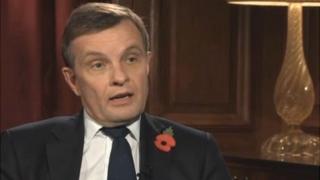 The Welsh secretary says the BBC must tackle "organisational issues" to ensure the quality of its journalism.
David Jones MP was speaking on The Wales Report following the resignation of Director General George Entwistle.
Mr Entwistle quit over Newsnight's reporting of north Wales child abuse and a shelved report on abuse by ex-BBC DJ Jimmy Savile.
On Monday, director of news Helen Boaden and deputy Steve Mitchell announced they have "stepped aside."
Speaking before that announcement, former BBC Wales controller Gareth Price said he expected more BBC management resignations to follow Mr Entwistle's resignation.
Mr Jones said Newsnight's journalism had been damaged by a lack of structure while Mr Price, BBC Wales controller between 1986 and 1990, told BBC Radio Wales the issue was more to do with "shoddy journalism".
Mr Jones told The Wales Report: "There should have been a process of reporting to the director general if there were a programme such as Newsnight that was apparently at one stage going to name a senior Conservative politician - clearly no such arrangement was in place.
"I think that there must be organisational issues below DG (director general) level which need to be addressed."
Mr Entwistle had been dealing with the fallout from a 2 November Newsnight report into an abuse victim's claims which led to Lord McAlpine, a former Tory politician, being wrongly linked to abuse in north Wales children's care homes in the 1980s.
The victim, Steve Messham, withdrew his accusation a week later, saying he had been mistaken. And the BBC issued an unreserved apology for the broadcast.
Mr Entwistle was criticised for not knowing about the programme until after it was screened, for not being aware of a newspaper article which revealed the mistaken identity, and for not knowing about a tweet saying Newsnight was poised to broadcast the revelations.
He was in post as BBC editor-in-chief for only 54 days.
Former Wales controller Mr Price told Good Morning Wales "there has been far too much talk about too many layers in management and not enough resources".
He said: "Basic errors in journalism are not about money it's about competence and ultimately the competence must be judged by management."
Welsh Secretary Mr Jones said that restoring confidence would be the next step for the BBC.
He said: "What we need is to have someone at the helm of this organisation which is an important British institution after all, who is capable of inspiring the confidence of the staff of the BBC but also of the audience of the BBC, who are no doubt very badly let down by this episode."
Mr Jones said that it was important that the victims of abuse were not forgotten.
"I think we should remember that this is what it's all about," he said.
" I know that there have been concerns in north Wales for many years about whether or not the Waterhouse inquiry was sufficiently in-depth. I think that the process that we have put in place over the last week should address that."
Two inquiries have been launched by the UK government into allegations of child abuse in care homes across north Wales.
Meanwhile, the decision to pay a year's salary to ex-BBC director general George Entwistle, who quit after eight weeks, has been criticised by senior MPs.