Road salt stocks at 'record levels' ahead of winter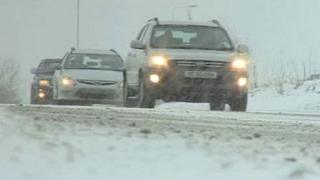 Road salt stocks are higher in Wales than ever before, according to the Welsh government.
There are currently 243,000 tonnes of salt in stock - compared with 137,000 tonnes at the same time in 2010.
Guidance and advice has also been issued to local authorities on the efficient use of salt.
Last winter was said to be "relatively mild", but it followed two severe winters where bad weather disrupted schools, work and services.
Blaenau Ffestiniog in Gwynedd, and other places on higher ground, have already had their first snow fall this winter, and even last year's relatively mild winter resulted in blizzard conditions in parts of Wales as late as April.
Carl Sargeant, Local Government and Communities Minister, said: "Everybody appreciates that the winter weather in Wales can be unpredictable.
The Welsh government and the Welsh Local Government Association (WLGA) have continued to work closely to ensure that there is sufficient salt stocks at the start of the winter, he added.
"This will ensure that we're fully self sufficient throughout the winter period without the need to re-stock or introduce salt conservation measures."
The aim is to reach a stock of 270,000 tonnes, a third higher than the 200,000 tonnes of salt that was used per year during the adverse winters of 2010/11 and 2009/10.
Additional storage facilities have already been set up at Blaenau Ffestiniog, Queensferry in Flintshire and Merthyr Tydfil.
Another site in north Wales is due to open, along with one at Llanidloes, Powys.
Anthony Christopher, WLGA's spokesman for highways, infrastructure and transport, said local authorities had worked together to prepare for winter.
"They have agreed on each authority maintaining stock levels that should meet their own needs through the winter.
Alongside the Welsh government's strategic stock holdings and "mutual aid" agreements between authorities it gave "greater resilience" to winter weather at a national level, he said.
"We believe that we enter the winter period well-prepared, although any prolonged periods of snow inevitably results in stock holdings running down quickly.
"Ongoing discussions with the main suppliers to Welsh authorities have been aimed at ensuring restocking takes place in an orderly way over the winter period," he added.
Information on winter salt provision, and general advice on winter weather, can be found at the Welsh government's weather advice website.