War veteran George Davies to make final Sri Lanka journey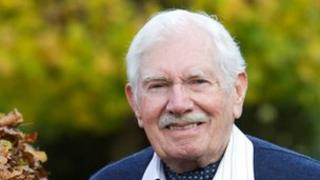 An 87-year-old World War II veteran is to make a final trip to Sri Lanka to recall his wartime role there.
George Davies, from Monmouth, will make the poignant trip in January with the help of the Big Lottery Fund's Heroes Return 2 programme.
He is one of several Welsh veterans who have returned to places they served during the war.
More than 830 veterans, widows, and spouses in Wales have so far been awarded over £1m to make similar trips.
The former bank worker in Carmarthen was initially called up for war duty in 1943 and trained as a wireless operator in the RAF, before being transferred to the Navy as a telegraphist.
His early duties including worker on a fishing trawler converted for mine sweeping duties in the North Sea.
Hammocks
But, following VE Day in May 1945, George was discharged and sent to a transit camp in Colombo, Sri Lanka where his focus would be on the war in the Pacific and combating the threat from the Japanese Imperial Navy.
He recalled the arduous journey to the far east aboard HMS Glengyle, a former cargo ship.
"The accommodation was terrible as we had to sleep on the mess deck in hammocks with only a blanket.
"The ship had no air conditioning, which meant that when we reached warmer climes we slept on the open deck to keep cool.
"I had terrible sunburn and blisters everywhere as there was no such thing as sun cream in those days. It was a relief when we reached Bombay which was as far as the ship was taking us."
As they waited to disembark in India, Mr Davies heard on the radio that an atom bomb had been dropped on Hiroshima in Japan.
He was in a village near Bombay by the time the second bomb was dropped on Nagasaki and Japan surrendered.
He remained in Sir Lanka until he was sent to Bombay to catch a liner called the Llanstephan Castle back to Britain.
However, before he was demobbed, he was drafted on duty aboard another mine sweeper with responsibility for clearing the inshore minefields between Boulogne and Dieppe off the French coast.
He will make the trip to Sri Lanka with his wife Barbara.
"This will probably be my last chance to do this trip," said Mr Davies.
Big Lottery Fund chief executive Peter Wanless said: "On Remembrance Day we will pay tribute to those who died in the line of duty.
"A huge debt of gratitude and recognition is owned by today's society to the men and women who served across the world during the Second World War.
"They built the peace and protected the freedoms we enjoyed today."