Dylan Thomas Prize for Maggie Shipstead with first novel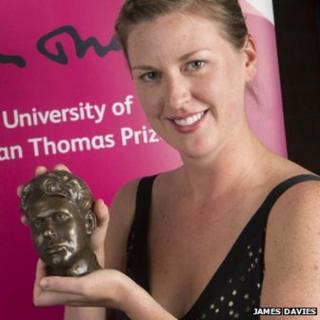 Californian author Maggie Shipstead has won the £30,000 annual Dylan Thomas Prize with her debut novel.
Shipstead, 28, took the accolade at a special ceremony at the National Waterfront Museum in the late Welsh poet's home city of Swansea on Friday.
The prize is given to an author of a novel, play, poetry or travel book in the English language who is under 30.
Judges said her novel Seating Arrangements showed immense maturity and great accomplishment.
The book takes a satirical look at the New England society and is a study of an American family as it prepares for a wedding.
Novelist and judge Allison Pearson said: "The smart money has to be on Maggie Shipstead winning a Pulitzer before she's 50."
'Fluency and beauty'
The judges also included singer Cerys Matthews who said "passions were running high" among the panel because several books were strong contenders.
"However, Maggie shone as a truly accomplished writer whose effortless prose had great fluency and beauty," she said.
Speaking on BBC Radio Wales Ms Shipstead said she was overwhelmed by the book's success.
"I think when you start to write a book it's insanity to imagine anyone reading it, let alone people in other countries and people choosing your book for a prize.
"It seems like a dream."
The author said she was familiar with Dylan Thomas' work because she had studied his poetry at university, but she knew more about the man himself after her visit to Wales.
"I've travelled all over the place and seen sites relevant to his life, so I feel a much stronger connection now," she added.
The shortlist was revealed last month including Zimbabwe-raised Andrea Eames' The White Shadow set in 1970s Rhodesia and Tom Benn's crime fiction debut The Doll Princess which explores the criminal underworld of 1990s Manchester.
First awarded in 2006 as a £60,000 prize given every two years, it is has been staged annually since 2010.
The announcement of the 2012 winner marks the end of a week of events with shortlisted authors visiting schools and universities across Wales to give readings and participate in creative writing workshops.
The 2012 longlist was announced by Dylan Thomas' granddaughter, Hannah Ellis, at the city's Dylan Thomas Centre in July.