Pine marten carcass in Powys first in Wales since 1971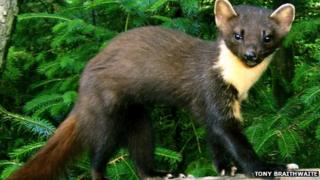 A dead pine marten has been found in Newtown, Powys, the first carcass reported in Wales since 1971.
Experts say it provides important evidence that the rare protected mammal still exists in Wales.
The Vincent Wildlife Trust (VWT) has investigated hundreds of reports of sighting of the animal - part of the weasel family - in the last 20 years.
"The significance of this find cannot be overstated," said chief executive Natalie Buttriss.
"It adds to the body of evidence supporting the long-held view of mammal experts that this attractive tree-dwelling animal does exist in Wales, but in such low numbers that very few people ever see one."
The carcass was found on the roadside close to the village of Aberhafesp near Newtown by a local resident.
DNA analysis carried out at the Waterford Institute of Technology in the Republic of Ireland has provided unequivocal evidence that the animal was a young male pine marten native to the British Isles.
Pine martens are about the size of a domestic cat, and in the past 20 years, the Vincent Wildlife Trust has received more than 300 credible reports of sightings of pine martens in Wales and has built up a map of "hotspot" areas.
Until the carcass discovery, the most recent unequivocal evidence was a dropping found in Cwm Rheidol forest in 2007 which was positively DNA tested.
The trust has been gathering and evaluating reported sightings of pine martens from England ad Wales since the mid 1990s.
It says data analysis suggests that pine martens are till present in broadly the same parts as in earlier decades - including in Wales, the Cambrian Mountains, Snowdonia and Carmarthenshire.
The trust has said said pine marten numbers had grown in Scotland in recent years, but they had not recovered in Wales and England.
It has, in recent years, organised numerous hunts for pine marten droppings - using teams of volunteers, deployed remote cameras and set up baited hair tubes.
Despite this, no unequivocal evidence had been found in the last five years.
A new VWT pine marten project officer, based in mid Wales, will start work later this month.
The two-year project aims to determine the status of the pine marten in Wales and help develop long-term conservation plans to ensure a safe future for the rare mammal.