Dylan Thomas 100: Centenary festival in 2014 revealed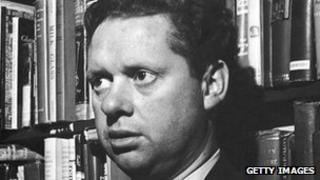 A year-long festival is to take place in 2014 to mark the centenary of the birth of poet Dylan Thomas.
Theatre performances, visual arts, comedy, television, film and exhibitions will be held across Wales for the event, called Dylan Thomas 100.
Business and Tourism Minister Edwina Hart hoped it would be a fitting legacy for his work, and showcase Wales as a land of artistic excellence.
Thomas's granddaughter Hannah Ellis appealed for everyone to get involved.
"By encouraging a wide range of high-profile, innovative and fun events, Dylan Thomas 100 will be a catalyst for revitalising interest in my grandfather's work," said Ms Ellis, the festival's patron.
"I hope that it will introduce his wide range of writings to new audiences through new television and radio productions, film projects, book publications, academic initiatives, theatre productions, music and the arts, and a range of new internet-based initiatives."
Literary tour
The places that inspired Dylan Thomas - who was born in Swansea in 1914 and spent his early years there and Laugharne in Carmarthenshire where he wrote his later works, and also the Ceredigion countryside - will be the main focus for DT100.
In Wales, there will be a theatre tour of A Child's Christmas in Wales, new productions of some of the poet's works including Under Milk Wood, a series of activities centred on the Boathouse in Laugharne, including a literary public tour. There will also be a major new exhibition at the National Library of Wales in Aberystwyth.
There will also be a year-long Swansea Festival of Music and Art, based on the poet's works. A world premiere by composer Karl Jenkins will take place and Bangor University will stage a mini-festival of five concerts, demonstrating musical responses to Thomas's works.
A Dylan Odyssey, organised by Literature Wales, will offer a series of literary public tours in Wales and the United States. People joining in will be able to experience the places and themes which inspired and forged the poet's creative writing.
'Literary giants'
Ms Hart, speaking at the closing of this year's Dylan Thomas Festival, said the writer was "one of the literary giants of the last century."
She said: "These events will help contribute to a fitting legacy for Dylan's life and work, but I also hope they will resurrect a passion for literature and inspire people of all ages to connect more actively with our rich cultural heritage.
"In the spirit of Dylan, it is an opportunity to showcase Wales as a land of artistic excellence to an international audience and raise further the iconic status of this great literary figure."
The festival is being funded by the Welsh government, the Arts Council of Wales, and Swansea, Carmarthenshire and Ceredigion councils.
David Alston, arts director of the Arts Council of Wales, said: "This festival is being shaped from a wealth of creative ideas and responses to Dylan Thomas's work from some of our leading cultural players.
"We are focussing on new and inspiring approaches to discovering and rediscovering the work and the places connected to that work."