Baby death: Wales Ambulance Service inquiry after delay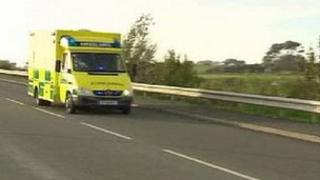 An investigation has been launched after a woman who had to wait two hours for an ambulance lost her baby.
It is understood the woman was forced to wait for a transfer to the Royal Gwent Hospital in Newport, while needing an emergency caesarean section.
Health Minister Lesley Griffiths said she wanted the "very distressing case" investigated thoroughly.
The local health board said a joint investigation with the ambulance service was under way.
The Wales Ambulance Service is currently under fire for failing to meet response time targets and Ms Griffiths has announced plans to hold a "comprehensive review".
The woman's case was highlighted in the Welsh assembly by Plaid Cymru AM Jocelyn Davies during a debate about the ambulance service on Wednesday.
Ms Davies, AM for South Wales East, said the woman waited for two hours for an ambulance to transfer her from Ystrad Mynach to the Royal Gwent.
It is understood the woman had been at Ysbyty Ystrad Fawr in Ystrad Mynach, which has a midwifery-led baby unit.
She was eventually transferred to the Royal Gwent Hospital but Ms Davies said the woman's baby died during an attempted forceps delivery last week.
She asked the minister: "Will you ensure that the family's wishes for a proper investigation are met?
"Will women have confidence in midwife-led centres if they have no confidence in an ambulance should things go wrong?"
National targets
Ms Griffiths said she was aware of the "very distressing case" and would be writing to Aneurin Bevan health board to ensure that a thorough investigation is conducted.
A joint statement from the health board and ambulance service said: "Our thoughts are with the mother and her family at this extremely difficult time.
"A joint investigation is under way with the Welsh Ambulance Services NHS Trust and it will be inappropriate to comment further until this has been completed.
"We will continue to meet with the family and provide any support they require."
The investigation comes after Ms Griffiths announced plans to hold a "comprehensive review" into the ambulance service.
It follows recent concern about uncertainty over the service's budget, as well as its performance on meeting national targets on response times.
It failed to meet the target of responding to 65% of the most urgent calls within eight minutes for the fourth successive month.
But Ms Griffiths announced she wants to increase the Category A target to 70% of calls, whereas in England it stands at 75%.
A final decision will be made after the review is completed, the Welsh government said.
The Welsh Ambulance Service called the action positive.