Wales' learning disability football team makes debut against Northern Ireland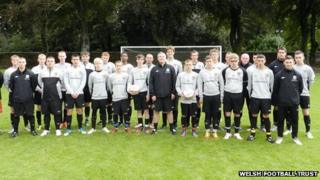 A new squad of Welsh footballers has tasted international competition.
The first Wales learning disability team faced Northern Ireland at Bangor City's Nantporth Stadium in Gwynedd, losing 2-0 to the visitors.
More than 700 players represent clubs in the Welsh Pan-Disability League and 16 were chosen for the fixture.
"It's a massive achievement and I can't say just how proud I am to be involved in it and it's the same for the lads," said team manager Grant Kalahar.
"All of these lads have learning difficulties. There are other attributable issues as well, such as the frustrations that come with not being able to learn and there's behavioural problems attached.
"So what we tend to do is get to know the players absolutely inside out, so we can see the little triggers early."
'Extra special'
The Football Association of Wales said more than 400 people turned up to watch the match on Thursday.
Players are eligible for the international squad if they have an IQ of below 75.
They are all aged between 16 and 23 and the chance to pull on the red jersey is a dream come true for some.
"I didn't know I was being watched but then I was told by my boss that I'd been picked for the Welsh squad," said striker Chike Iwobi, speaking before the game.
"Then we were sent letters. It felt really great. I think it's good to interact with new players and learn more about them."
Midfielder Scott Hopkins said: "I'm excited. I can't wait to get there. It will be tough but I think we've got a chance to win."
Despite starting disabled football programmes nine years ago, the Welsh Football Trust chose to grow a large player base before creating a national squad.
In Northern Ireland, Wales faced a side who have played at international level since 2003 and finished sixth in the 2006 World Cup for Players with Intellectual Disability.
Their manager Alan Crooks labelled the fixture as "extra special" due to it being a first for Wales.
Two intense training camps were used to school the players in the build up to the fixture with videos, walk-through demonstrations and diagrams used to aid learning.
Sports science tips to boost performance and lectures to build the confidence of players were features of each camp.
"The players' attitude has been spot on," said trust development co-ordinator Rob Franklin.
"Whether it be the sports science which is new to many, the dietary requirements and what's expected. You can't question it, it's been really positive."
The trust's aim is to field a team in next year's home nations competition but squads for players with other disabilities could soon be up and running.
Development programme manager Jamie Clewer said: "We have plans to start a deaf squad this season and then on from there in 2014 we're looking at partially sighted and cerebral palsy."