Adoption plans do not go far enough, AMs tell ministers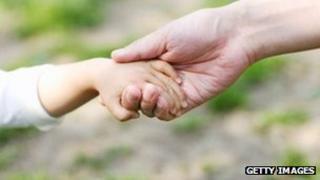 A plan to improve the adoption service in Wales has been criticised as not going far enough with more support needed for families.
The proposed national adoption service would bring together councils to form a single service.
But an inquiry into the plan found inconsistencies including the way in which adopters are recruited and assessed and the support given.
The Welsh government said its plan would cut adoption waiting lists.
Officials say the service would not replace adoption agencies but would help remove duplication which draws out the process of approving prospective parents and finding permanent homes for children.
Assembly members sitting on the children and young people committee "applauded" the plans, which were announced last year and are currently open for consultation.
But members said the proposals did not go far enough saying the plan should be "significantly strengthened" and a national adoption register created.
It found adoption services differed around Wales, including the way in which adopters are recruited and assessed.
The committee said that schools and mental health services should have a bigger role to play in supporting some adopted children.
It also said it had heard from people who had difficulties in even registering to be considered as an adoptive parent.
The committee recommended that:
The national adoption service should have a "central delivery role" and employ staff to work on a range of adoption services
It should not be "owned by local authorities" as set out in current proposals
The lead role within the service should be a senior independent role, reporting to a multi-agency board and ultimately accountable to the relevant minister
The Welsh government should establish a national adoption register for Wales with all prospective adopters and children placed on it
Post-adoption support should be improved for families
Christine Chapman AM, chair of the committee, said: "Unless current proposals are changed, a significant opportunity will be missed to make greatly needed improvements in the lives of adopter families and some of the most vulnerable children in Wales."
Gwenda Thomas, deputy minister for children and social services, said she agreed with the committee that "radical action" was needed to "transform" adoption services in Wales.
"That's why we are taking action to change the system.
"We are using our new powers, through the Social Services and Wellbeing (Wales) Bill, to direct local authorities to come together to form a national adoption service, in order to tackle current inconsistencies in service delivery," she said.
"This will transform the adoption service in Wales, enabling reinvestment in permanency for the children who cannot be reunited with their families and provide greater equity in after-adoption services."
Yvonne Rodgers, director of children's charity Barnardo's Cymru, said they were already advising the Welsh government about adoption but welcomed the committee's recommendations to improve the service.
"In particular we welcome the significance given in the report to post placement support to adopters and their families which is crucial in minimising the risk of placement breakdown and offers continuous support to them in their parenting role," said Ms Rodgers.
She added: "Streamlining the adoption process is only one part of the jigsaw. We urgently need more potential adopters to come forward to provide these vulnerable children with loving and stable homes."