'Fly grazing' review by government after equine summit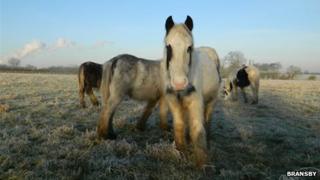 The Welsh government is to look at laws surrounding illegal horse grazing in an attempt to contain the growing problem.
Agencies including the government, the RSPCA, horse welfare charities and police took part in an equine summit in September to look at solutions.
Agriculture deputy minister Alun Davies said the government was putting in place short-term measures while consulting on a long-term solution.
Earlier this year, 60 horses had to be removed from land near Cardiff Airport.
In a statement, Mr Davies said the majority of horses found 'fly grazing' were of the Welsh Gypsy Cob type which had had a profitable export market until a few years ago.
"With the economic downturn, those overseas markets have largely dried up," he said.
"The UK equine market is also depressed and the once buoyant trade for these types of animals has decreased dramatically thereby creating a surplus of unwanted horses and ponies."
He added that problem caused unnecessary suffering to many horses and ponies.
'Long overdue'
Mr Davies has asked for a review of the existing legal framework for tackling fly grazing because of differences in local authorities' legislation.
He added: "I will be reviewing the options to ensure that there is a straightforward, robust and consistent legal framework across Wales.
"I am also aware that the National Assembly's Cross Party Group on Horses has reviewed the issue and made a series of recommendations to address fly grazing."
He has met Gwent Police's chief executive Carmel Napier, who leads on fly grazing for the four Welsh forces, and said he planned to meet local authority leaders in the next fortnight.
Conservative rural affairs spokeswoman Antoinette Sandbach AM said: "This statement is long overdue and provides the beginnings of at least some confidence in the government's approach to the problem.
"Fly grazing has long been in the headlines and it is very clear that a solution must be found as soon as possible."
Mr Davies was hoping the consultation on proposals to tackle the issue would enable a long-term solution to be put in place in 2013.