Majority 'back assisted suicide', says Bangor uni study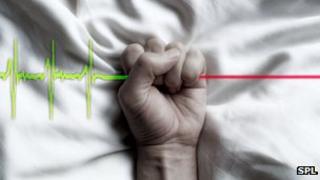 Two-thirds of people accept assisted suicide, according to international research by Bangor University.
The study of the views of over 62,000 people suggested support was around the same among people with terminal illnesses as for the general public.
Researchers said the result contrasted with a recent review claiming doctors consistently opposed euthanasia.
The main reason given for considering assisted death was unbearable suffering.
Other factors such as loss of dignity, loneliness and being a burden were at least as significant as pain in motivating people to consider taking such action.
Researchers looked at available international literature published about assisted dying and brought together the views of ordinary people.
There were no apparent differences in attitudes between countries, whether assisted dying was permitted by law or not.
People wished to have control so they could choose the right time to die, suggested the study, which is published in the journal Palliative Medicine.
"It remains to understand the discrepancy between the perspectives of doctors and their patients," the report concluded.
Assisted dying is legal in four European countries - Netherlands, Belgium, Switzerland and Luxembourg - and three American states - Oregon, Washington and Montana.
Celebrity campaigners
Researchers said it remained controversial elsewhere, particularly in more affluent or mainly Protestant countries.
They also said headlines tended to feature professional arguments against celebrity campaigners, with ordinary people "less clearly represented".
Prof Clare Wilkinson, of the North Wales Centre for Primary Care Research, said: "Our work highlights the collective views of a huge number of people, including those from Britain.
"The medical profession needs to recognise and have respect for this majority view even if we don't agree with it."
This summer, doctors at the British Medical Association's annual conference reiterated their opposition to assisted dying.
Delegates debated the issue after a motion calling for the organisation to take a neutral stance was put forward. Medics voted to reject the proposal.
Prof Baroness Ilora Finlay, a cross-bench peer and professor of palliative medicine at Cardiff University, told the conference it was essential that doctors "never walk away from patients".