Wales child abuse: 38 calls to children's commissioner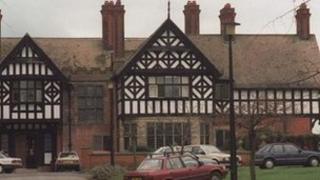 The children's commissioner for Wales says his office has received 38 calls since a child abuse victim in north Wales in the 70s and 80s spoke out.
Keith Towler said some were from people wanting to make "fresh allegations", and he would welcome further calls.
Details of abuse, centred on children's homes in north Wales, began to emerge in the 1990s leading to the Waterhouse inquiry.
But victim Steve Messham last week called for a new investigation.
He told the BBC's Newsnight programme that the Waterhouse inquiry report, published in 2000, uncovered only a fraction of what had happened.
Mr Towler said since Mr Messham's interview on Friday, his office had received 38 calls relating to the issues raised.
People wanted to make fresh allegations, share information or talk about the inquiry itself, he said.
"We're taking calls from anywhere and everywhere," said Mr Towler.
"Some of them are directly related either to the Waterhouse inquiry or to issues in the north Wales children's homes dating back to the 1970s and 80s.
"Other people are raising other issues related to other matters - you will appreciate I cannot go into the detail of that."
Two new investigations have been announced this week into the scandal.
Home Secretary Theresa May announced a police inquiry led by crime agency head Keith Bristow into allegations of child abuse in north Wales in the 70s and 80s.
Separately, Mrs Justice Macur will investigate the terms of the Waterhouse abuse inquiry.
Mr Towler said he would welcome any calls from members of the public about child abuse in north Wales in the 1970s and 80s or the related inquiries.
"The important part that I'm playing at the moment is that if anybody wants to talk to me they can do so," he said.
"I will make sure both Keith Bristow, in relation to the police investigation, and Mrs Justice Macur, who is taking forward the look at the Waterhouse inquiry, will receive the information that I get if appropriate.
Mr Towler said he was the "independent human rights institution for children and young people".
"Some of the calls my team have been receiving are from people who initially have more confidence in talking to somebody independent to talking to the authorities," he said.
"So what I've been doing, what my team have been doing, is handling those calls, making appropriate referrals in terms of information as you would expect to the police and other bodies.
Allegations
"I need now to discuss with both Keith Bristow and Mrs Justice Macur how the information I'm receiving is properly and appropriately dealt with in the work they're taking forward."
Allegations of abuse centred around the Bryn Estyn care home in north Wales and involving dozens of other care homes began to emerge in the 1990s.
North Wales Police investigated the care home abuse claims in 1991, and seven former care workers were convicted.
But it was widely believed that the abuse was on a far greater scale, prompting the ordering of the Waterhouse inquiry in 1996.
The children's commissioner for Wales' freephone number is 0808 801 1000.