Firefighter cover in Mid and West Wales union concern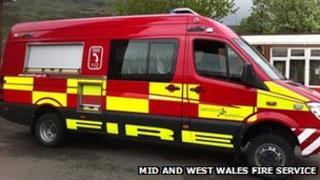 Union officials claim a shortage of frontline firefighters in mid and west Wales could compromise safety.
The Fire Brigades Union (FBU) said it meant fire engines being left idle or crewed by staff who had not been on emergency response duty for many years.
It raised other concerns earlier this year when the service bought 17 vans to replace some traditional fire engines.
The fire service has admitted "crewing challenges" but denied using untrained staff on fire engines.
The FBU says a lack of frontline firefighters means up to 21 of the region's fire engines are unavailable daily because there are not enough trained firefighters to run them.
And it claims headquarters staff and business and community fire safety staff could be used to cover "crewing deficiencies".
'Robbing Peter to pay Paul'
Mid and West Wales FBU brigade secretary Barrie Davies said: "Techniques in firefighting change fast, and knowledge decays.
"If an operational firefighter does not go out and fight fires for six months, he or she is rightly expected to do a two week rehabilitation course before being sent out again.
"Yet now, suddenly, the FRS [fire rescue service] proposes to send out people who have not been out on a fire engine for up to 20 years."
He claimed the situation was being "exacerbated by the fact that part-time firefighters are being taken from their own communities to cover full-time deficiencies, a case of robbing Peter to pay Paul".
An advert on the fire service website says there are a number of vacancies for on-call firefighters.
Mr Davies said: "I think the FRS panicked when it realised how bad the shortage of frontline firefighters actually was, and it is now putting both its firefighters and the public in danger by taking this course of action."
The FBU has now issued a second safety critical notice on the fire service which means it believes there has been a serious breach of health and safety guidelines.
'Flexible deployment'
Deputy Chief Fire Officer Paul Bates admitted there were staffing issues but denied the alleged scale of the impact on its operations.
"We recognise that we currently have some crewing challenges at certain times of the day, in some areas of the service," he said.
"But to suggest that up to 30% of our operational fleet is unavailable is not true and misleading.
"We are utilising some of our Business Fire Safety and Community Safety staff more flexibly.
"These colleagues, who are all highly trained and skilled fire officers, are performing their normal roles, but instead of operating out of their normal place of work, they are working at stations where we have short term crewing difficulties.
"This enables us to keep appliances available and ensures strategic fire cover is provided across the whole service area at all times.
"All personnel are competent to perform the skills required of them in the roles they are currently performing, both in terms of their roles in community and business fire safety departments and as officers in charge of crews at incidents.
"This flexible deployment of staff across the service area is an everyday occurrence and ensures we have the right people in the right place at the right time".
The union previously issued a safety critical notice in May when the Mid and West Wales Fire and Rescue Service announced it was buying 17 vans, with 14 acting as stations' second appliances and some replacing traditional fire engines.
Union leaders claimed firefighters in a van who were the first to arrive at an emergency would have to wait for a normal fire engine to arrive before they could enter a burning building.
Chief fire officer Richard Smith said at the time that the vans would give greater flexibility and help with getting to remote locations.