Marine conservation zones: 'Task and finish' team considers responses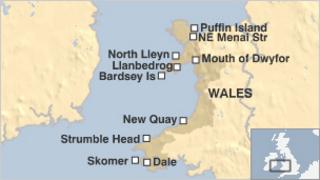 More work on plans for Marine Conservation Zones (MCZ) has been announced by the Welsh government.
A "task and finish" team has been created to look at responses to consultation about creating up to 10 MCZs which closed in July.
The zones will impose restrictions on fishing, dredging and other activities.
The Conservatives and Plaid Cymru have welcomed the announcement of extra scrutiny which will result in a report by the end of April 2013.
The Welsh government is proposing the zones with the backing of the Countryside Council of Wales and the Marine Conservation Society.
It received more than 7,000 responses during the consultation.
Creating the zones would mean a ban on fishing, dredging and anchoring in all or some of the areas.
The Welsh Fishermen's Association has previously said existing conservation networks for Welsh waters are adequate.
On Monday, Environment Minister John Griffiths said: "I am announcing a period of additional work to reflect on and fully explore all the information received, to inform how we move ahead with MCZs in Wales.
"This additional work is in line with our planned staged approach to listen to feedback at each stage, respond and then seek further views from all interested parties before deciding on next steps."
He said a "cross-cutting task and finish team" from different agencies was being established to advise and make recommendations.
Once recommendations are made, a further consultation will be held.
Antoinette Sandbach AM, the Conservatives' Shadow Minister for Rural Affairs, said: "The fact that there were 7,000 responses to the consultation reflects the huge concern at these proposals and the impact they would have on Welsh fisheries."
She added: "I hope that the next consultation will be available bilingually, so that everyone with an interest in our seas is able to respond."
Llyr Gruffydd AM, Plaid Cymru's environmental spokesman, said: "We welcome the establishment of the task and finish group and are glad that the minister has listened to the Party of Wales, representatives of the fishing and tourist sectors and some environmental organisations.
"Bringing on board a wider range of stakeholders to discuss proposals that will have a direct and substantial impact on their interests is the approach that should have been adopted from the outset."