Ash dieback: Forestry Commission Wales launch survey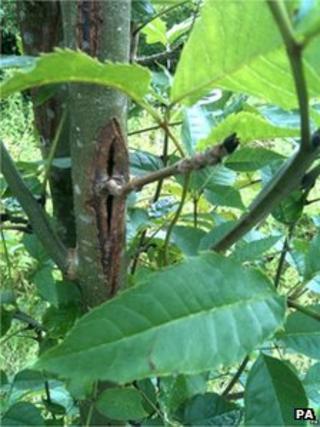 An intensive survey is taking place throughout Wales to spot any signs of the dieback disease threatening to wipe out the UK's ash trees.
So far, 100,000 trees in England and Scotland have been destroyed by the fungal disease.
Forestry Commission Wales said 100 staff have been surveying 258 sites measuring 10km square over the weekend and on Monday.
Any suspicious sites will be examined within 24 hours.
If the disease is suspected, samples will be taken and sent for analysis by plant health experts.
It is hoped all the findings will be collated by Tuesday evening, the spokesman added.
Representatives of Forestry Commission Wales will attend a UK "tree health summit" on Wednesday when the findings of the survey will be used to inform their briefing.
Ash dieback is caused by a fungus called Chalara fraxinea.
The disease causes leaf loss and crown dieback in affected trees, and it can lead to tree death.
The fungus has been confirmed at 52 sites in England and Scotland.
100,000 ash trees have been destroyed and experts say it may be too late to stop of the spread of the disease.
Ash trees suffering with the newly identified pathogen have been found widely across Europe, with disease infecting up to 90% of ash trees in some areas of Denmark.
Experts have warned that if ash dieback was to become widely established in the UK, the impact could be as serious as the 1970s outbreak of Dutch elm disease, which saw millions of trees destroyed.