PCC elections: Voices from Pontypridd on low-key battle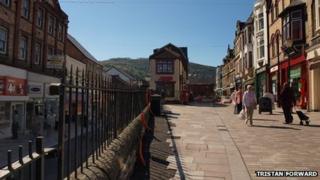 In the run-up to the police and crime commissioner elections on 15 November, Natalie Grice takes a look at a typical town to find out how much local inhabitants know about the elections, and whether they care they are happening.
The market town of Pontypridd is being made over. Contractors are hard at work restyling the roads with paving slabs, and there are plenty of shoppers making the most of the bright November sunshine.
For anyone with a message to promote, it's ideal territory. But not, apparently, for those who are hoping in just over a week to gain the support of people here and across the region to become the first ever South Wales police and crime commissioner.
Along Taff Street, not one poster catches the eye announcing an election is being held or who the candidates are.
The information deficit is repeated at the town museum's noticeboard, the town council's display board and even the police station itself.
It comes as little surprise that when questioned, most people's response is the same - "don't know much about it, don't know who the candidates are".
For Royston Vowles, 72, who lives in the town, part of the problem as he sees it is "the only way you can find out is on the internet. I haven't got a computer."
He continued: "I have had a [polling] card to say that it's happening. The only thing I understand is that [the commissioner] is going to be an ordinary person.
"Now what does the ordinary person know about policing, rules and regulations and such like? To me it's absolutely ludicrous. It's the government trying to pass the buck onto somebody else."
He believed the lack of a mailshot from candidates - unlike in parliamentary elections, there is no state funding for it - has hampered people like him from being able to make a decision about who, if anyone, to vote for.
As if proving Mr Vowles' point, two women walking in the town's Ynysangharad Park both said they had turned to the internet to look up information about the candidates when they wanted to know more.
Pontypridd resident Maria Carroll, 46, who teaches adults with learning disabilities, said she had not known anything about the elections until she saw an item on the BBC's Politics Show on Sunday.
Retired teacher Mary Chinnock, 60, said the candidates were in the main not known, and said no-one had come door-knocking in the nearby village of Ynysybwl where she lives.
Asked about the role the commissioners would have, she replied: "Does anyone really know? I think it's going to be learning on the job. This is why I'm going for somebody who's got some understanding.
"I don't think they can make the police worse. I'm quite happy with how things are policed [although] I do think victims of crime don't get enough voice."
They both planned to vote, and believed it was important people exercised this right, while voicing the opinion that they did not expect a large turnout.
Along the road in Treforest, tattooist Jack Rees, 31, is one of what pundits predict will be the significant majority of people not bothering to vote.
In his opinion, the election is "a waste of money" which is "not going to make any difference".
"The police are still going to do what they're doing now," he said. "It's just putting somebody in there and getting paid for doing nothing."
His views are apparently shared by regulars at the nearby Otley Arms pub, according to 59-year-old owner Paul Otley, who said when the topic was discussed over a pint, the general consensus was it was a waste of time and money and "jobs for the boys".
Although he conceded he would "probably" vote, Mr Otley, asked: "What have we got a chief of police for that he can't do? I expect we'll have the lowest turn-out ever."