Boris Johnson's ex-aide Guto Harri backs police election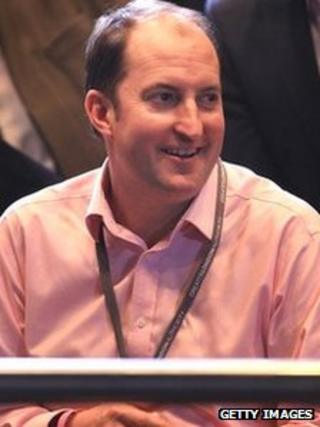 As Boris Johnson's right-hand PR man during the London Mayor's first term, Guto Harri was in the room when decisions were made that twice led to the city's top police officer quitting.
Against this background, the former BBC journalist says he supports elections in England and Wales for police and crime commissioners.
In his experience, he believes it is democratic and in the public interest
Police commissioner elections are held on Thursday 15 November.
In London, it is the elected mayor's office which is responsible for policing priorities and supervising the Metropolitan Police.
Harri, 46, spent four years with Johnson, a contemporary at Oxford University, reading politics, philosophy and economics.
He witnessed the day-to-day workings of the relationship between the London Mayor and the capital's top police officer - the Metropolitan Police commissioner.
Hiring and firing of chief constables in the 41 forces outside London will soon rest with the new police and crime commissioners.
Cardiff-born Harri, a former BBC Wales political correspondent who went on to be chief political correspondent for the BBC's News Channel, said the move was an "an excellent and long overdue constitutional reform".
He said: "If you look at the cost of the policing, the considerable powers the police wield and the discretion they have on decision making, then it is pretty clear to me that a clear line to a responsible and accountable person must surely be desirable.
"People say it is politicising the police, as if politics is an ugly word. To me, it means making it accountable."
'Think hard'
Harri said his experience while communications director of seeing the mayor make up his mind to withdraw support for Met commissioner Sir Ian Blair in 2008 - following growing criticism - underlined the importance of having an elected representative who could intervene.
He said: "It has nothing to with personal chemistry - it was down to the feeling that Sir Ian Blair had lost the locker room, i.e. the support of fellow officers.
"If an elected representative of more than a million [voters] believes that the chief of police has lost the confidence of fellow officers and, more critically, the people he is there to serve, then surely it is democratically right and in the public interest that the man or woman with a mandate exercises their influence."
Harri said the mayor was right to put similar pressure on Sir Ian's successor, Sir Paul Stephenson, and his assistant commissioner, John Yates.
They both resigned in July 2011 in the wake of the phone-hacking scandal.
He said: "That's when you need an elected person to weigh in to say 'people out there don't like this stuff and you should think hard about your position'.
"They were not sacked, but you can rest assured that the mayor encouraged them to think hard on whether they had the confidence of the public."
But police and crime commissioners also have a more "mundane" role, according to Harri, setting the tone for policing decisions but without overseeing the work day-to-day.
He said: "It is an issue whether you put all the police on parade outside a Cardiff City game or at the Senedd but then don't have them available in St Mary Street [in Cardiff city centre] late that night.
"Operationally, the distinction needs to be clear - that's got to be a call for the professionals to make without having politicians on their back.
"But you want someone asking them if they are making the best use of their resources - officers, vehicles, police stations - etc.
"Decent professionals conducting themselves properly have nothing to fear from elected police commissioners.
"But if you are not doing your job properly or conducting yourself as you should as a highly paid public official, then it is surely right that someone can hold you to account."
Harri oversaw Johnson's successful re-election campaign this year before moving becoming director of communications for Rupert Murdoch's embattled News International.
Police and crime commissioners will replace police authorities and will be paid a salary between £65,000 and £100,000.
As well as appointing the chief constable of their force, commissioners will set out local policing priorities, report annually on progress, and setting out the force budget and community safety grants.