Systemic problems forcing older people into care, says Wales commissioner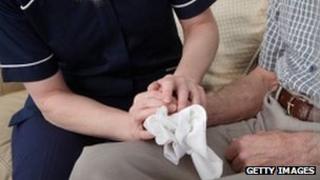 Systemic problems are causing some older people to move unnecessarily into care homes, claims the older people's commissioner for Wales.
Sarah Rochira said bad planning over hospital discharges and a lack of communication between the NHS and local services left some with no choice.
About 23,000 older people are in residential care homes in Wales.
The Welsh government said it was prioritising funding to councils to support social services.
Ms Rochira told The Wales Report on BBC Wales that some older people were not getting the information and advice they needed to enable them to stay at home.
"One of the things that concerns me is the variation in the information and the advice that people get," she said.
"It can depend on where you live and who you know, and I think that's quite simply wrong. There are huge variations across Wales and there is good practice out there, but we need to see that practice become standard practice."
Problems with processes around discharging older people from hospital and a disconnect between local social services and the health service can also see older people forced out of their own property and onto a merry-go-round of care homes and hospitals.
Dr David Leopold, one of Wales' leading geriatric consultants, told The Wales Report that too often the decision to move an older person into a care home after a stay in hospital was not made by the doctor or patient.
"The final decision is actually rarely made by the doctor," he said.
"You'd be surprised by that statement, I think. I think that the concept that decisions are made by the bedside... is simply wrong."
Many older people enter care homes after a stay in hospital prompted by a crisis.
But according to Dr Leopold, a move into residential accommodation can be seriously detrimental to an older person's health.
He said when faced with the option of returning home or entering residential care, the decision for most of his patients was an easy one.
In fewer than 20 years, there will be more than a million people in Wales over the age of 65, putting enormous financial pressure on local authorities, health and social services.
But Mark Drakeford AM, chair of the Welsh assembly inquiry into residential care for older people, said he was "confident that the quality of the system will improve, despite budgetary constraints".
Mr Drakeford disagreed with the commissioner's belief that some older people are not making the decision themselves to enter care homes.
A Welsh government spokesperson said: "The Welsh government is prioritising funding to local authorities to support social services.
"Over the period 2011-12 to 2013-14, we are committed to increasing funding at 1% better than the uplift to the block grant to Wales. This means an additional £35m over the period for local authority social services."