Celtic history: Injured soldiers learn new skills on warrior dig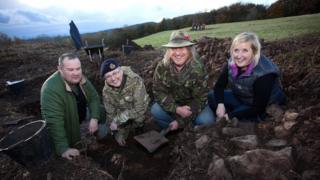 Soldiers injured in combat are taking part in an archaeological dig which could reveal the stronghold of ancient Celtic warriors.
The Silures were a powerful, warlike Iron Age tribe occupying much of south east Wales.
Troops from across the UK will help excavate the Llanmelin Wood hill fort, near Caerwent, Monmouthshire.
The dig led by Cadw aims to rehabilitate injured soldiers and teach them new skills.
The archaeological project, called Operation Nightingale, aims to make the transition for soldiers into civilian life easier.
They will be re-examining remains originally excavated in the 1930s by renowned archaeologist Victor Nash Williams.
The fort is historically important as a focal point for Celtic resistance to the Romans in the 1st Century AD.
Modern carbon dating techniques can test his theory that the Llanmelin fort was much more than just a military installation.
The work is being coordinated by Sgt Diarmaid Walsh of the Royal Army Medical Corps, attached to 1st Battalion, The Rifles, based at Beachley Barracks, near Chepstow.
"Many of these men have had a long and difficult physical recovery, but it's even more difficult for them to adapt psychologically," he said.
"You can do all the teaching and counselling in the world but, until they've been able to get out doing something worthwhile, it's very difficult to convince them that their life isn't over and that they still have a valuable part to play."
Sgt Walsh says the dig will give soldiers the opportunity to learn new skills.
"They're actually doing something which is incredibly useful to Cadw, and our national understanding of Iron Age history," he said.
"They've been able to pass on to the other volunteers here some of their skills in excavation, map-reading and simply working methodically.
"The penny's dropped for many of them that disabilities or not they still have qualities which can make a real difference to society."
The troops' assistance is being welcomed by archaeologist Dr Caroline Pudney, who is heading the dig.
"It's not just the soldiers who we've brought in on this," she said.
"We've tried to open it up to everyone in the area, so that locals can take a real sense of ownership in their own history.
"I was a tiny bit worried about so many non-archaeologists working on such a sensitive site, but to be honest the soldiers have been an absolute dream."
The soldiers are joining a group of volunteers from what Cadw call "hard-to-reach" communities with the aim of helping them to build self-esteem and confidence as well as archaeological and other skills.
Dr Pudney said the soldiers' discipline was "incredible".
"I have to say that they've probably done a more thorough job than a team of trained archaeologists could have done, as they question everything and leave absolutely nothing unchecked," she said.
Much about the Silures will forever remain shrouded in mystery, but according to Dr Pudney there is still plenty to be learnt at Llanmelin Wood.
"Victor Nash Williams' theory was that the fort wasn't just of military significance, that it was in fact a trading and administrative hub," she said.
"He pointed to finds of Roman pottery there, which pre-dated the Roman occupation of Wales, therefore suggesting that the Silures were not only fierce warriors but also adept traders and diplomats."
Nearby Caerwent is the location of Venta Silurum, built by the Romans in 75 AD as a market town for the defeated tribe.
Dr Pudney explained that the current archaelogical work would be more meticulous and revealing than previous excavations.
"The problem with Nash Williams' findings is that in the 1930s we hadn't yet perfected a system of documenting where in the ground an artefact was discovered," she said.
"So even if we know a pot dates from 200 BC, how do we know that the Silures traded it with the Romans, and that it wasn't simply brought over by Roman soldiers during their occupation?"
She hopes to make new, more accurate charts of the site, as well as using carbon-dating technology to identify bone remains.
Cadw are still welcoming volunteers to help on the dig, with an open day at the site being held on Saturday 10 November for anyone who would like to learn more about the fort.