Catherine Gowing: Search resumes as remains found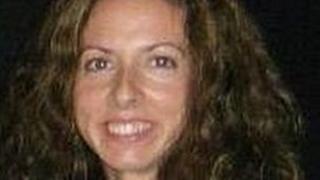 The search for missing Flintshire vet Cathering Gowing is resuming after human remains were found in a pool.
Irish-born Miss Gowing, 37, disappeared on 12 October after she was seen leaving a Queensferry supermarket.
The remains were discovered in a shallow pool at Manor Road, Sealand, following searches of fields.
Forensic examinations have been carried out and coroner John Gittins said he had been informed and expected to open an inquest shortly.
North Wales Police said on Thursday that Miss Gowing's family had been informed of the development and "clearly our thoughts are with them at this very difficult time".
The vet has not been seen since approximately 20:40 BST on Friday, 12 October 2012 when she was sighted on CCTV leaving an Asda Supermarket.
A huge police search was launched which focused around a quarry, pools and woodland in Pinfold Lane, Alltami, where her burnt-out car was later discovered.
Last week, Miss Gowing's sister Emma, and brother-in-law Shay, met officers involved.
Clive Sharp, 46, has been charged with her murder and has been remanded in custody until 7 January.
On Thursday, police thanked the public for their help in the inquiry and renewed their appeal for information.
People are asked to contact North Wales Police on 101 or Crimestoppers on 0800 555 111.