Camra concerned about pub closure figures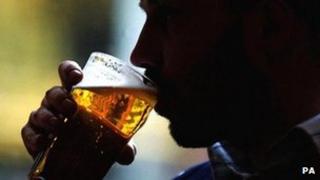 High taxes and cheap supermarket prices for alcohol have led to an increase in the rate at which pubs are closing, say a leading campaign group.
Ian Saunders, Wales director of the Campaign for Real Ale (Camra), said people were buying alcohol from supermarkets and staying at home.
He said tax was also a problem, comprising two-thirds of a pint's cost.
Camra said in a new report that 18 pubs a week were closing in the UK, up from 12 last year.
It was published ahead of a House of Commons debate on Thursday on the beer duty escalator under which beer duty is automatically increased by 2% above inflation.
"I think what's happening is people are looking to buy from supermarkets and drinking at home and ignoring their local boozer," Mr Saunders, of Conwy, told BBC Radio Wales.
He said beer prices were going up faster than the price of inflation so customers could not afford to go to pubs.
"We need to stop the price differential between supermarkets and the pubs increasing all the time, which at the moment it is," he said.
The Treasury has said the government "hugely values the economic contribution made by pubs and breweries".
It says a range of tax measures that will help the alcohol industry - and pubs in particular - have been introduced, including reductions in corporation tax and employer national insurance contributions.
The British Beer and Pub Association said earlier this month that around 117 million fewer pints were drunk compared with the same period a year ago.
Sales of beer in pubs fell by 4.8%, with 51 million fewer pints poured, while supermarkets and off-licence sales were also down, by 6.5%.