April Jones: Missing girl's parents' thanks for support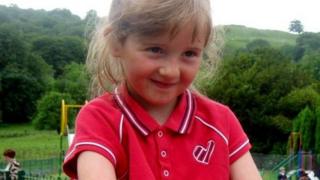 The parents of missing five-year-old April Jones have thanked the public for their support, one month after their daughter was abducted near her home in Machynlleth in Powys.
Coral and Paul Jones also say they have been "overwhelmed" by the resources used in the search for their daughter.
They said they have "taken comfort knowing that people are thinking of April and us".
Mark Bridger, 46, has been charged with the abduction and murder of April.
He was arrested the day after she went missing.
The statement released by Dyfed-Powys Police said: "It is four weeks since April was taken from us, as a family we are obviously devastated and our lives have been torn apart.
"Since October 1 we have received messages, flowers and cards from across not only the UK but the world and we have taken comfort knowing that people are thinking of April and us.
"Thank you for all your kind words and sentiments."
More than £35,000 has been raised for April's Fund by the local community.
'So special'
Machynlleth has been draped in pink since April's mother launched a ribbon appeal to support the search for her.
An annual cultural festival went ahead in Machynlleth last weekend after organisers said they had considering cancelling.
But it proceeded after they learned April's parents wanted Eisteddfod Powys to continue.
Hundreds of people turned out to see a town clock lit up in pink to mark the third week of April's disappearance.
Mr and Mrs Jones also said: "We have taken great strength from the procession through the town to the church and the lighting up of the town clock in pink, April's favourite colour.
"With the help of our family liaison officers, local police officers and friends, we were able to participate in both events.
"We avoided media attention because we simply wanted to be part of the community without drawing attention away from the events themselves.
"Thank you to every single person who attended each event and made them so special."
Family friend Ceri Herbert told the BBC April's parents still cling to the hope their daughter will be found alive.
"I think as a whole community we have hope and we have to carry on having hope because you just can't give up.
"When it comes to a child you can't give up," she said.