Catherine Gowing: Missing vet search focused on quarry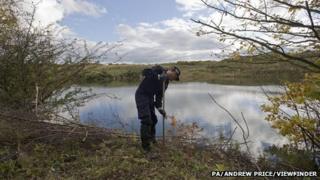 Detectives searching for missing Flintshire vet Catherine Gowing remain focused on a disused quarry site.
The 37-year-old's burnt out car was found in the area a week ago at Pinfold Lane, Alltmai.
Irish-born Miss Gowing disappeared 18 days ago on Friday 12 October when she was spotted leaving a supermarket in Queensferry.
Clive Sharp, 46, has been charged with her murder and has been remanded in custody until 7 January.
Sgt Neil Parks, from North Wales Police, said: "We all know that Catherine's car was found burnt out very close by in a quarry just across the road there.
"Because of that aspect the focus of attention has been on the quarry areas over here and the surrounding woodland areas as well, which is quite a substantial area."
He said the terrain had been "particularly challenging" for officers, but a methodical, intelligence-led search was continuing.
Sgt Parks said around 22 officers were continuing to search for Miss Gowing, as well as diving teams who have been scouring four large lagoons in one quarry basin.
"It's important we don't fall into the trap of searching for searching's sake. And therefore all searches have to be done on intelligence basis," he said.
Four major pools in the quarry have been searched.
"The search continues until the intelligence runs dry," added Sgt Parks.
"Nothing has changed. The focus remains on finding Catherine."
Last week, Miss Gowing's sister Emma, and brother-in-law Shay, met officers.
She said: "We are desperate to find and bring her home."