Welsh Ambulance Service fears at lack of budget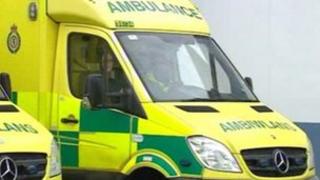 Patients could be put at risk because the Welsh Ambulance Service does not know exactly how much money it has to spend this year, it has been claimed.
BBC Wales has learnt that some board members are "extremely concerned" this year's budget is still not settled.
The Liberal Democrats said it could have a knock-on effect on patients, as the service failed to meet a key target for response times for a fourth month.
The Welsh government said local health boards were responsible for funding.
The Welsh Ambulance Service gets most of its annual funding from a body called the Welsh Health Specialised Services Committee (WHSSC).
The committee's members include the bosses of all seven of Wales' health boards.
Even though the ambulance trust had set a deadline for budget negotiations to be concluded with WHSSC by the end of June, a final settlement for 2012/13 has not yet been agreed.
It means in the six months since April the trust has operated on assumptions and provisional figures.
The uncertainty over its budget, it is claimed, has contributed to cuts in the ambulance service - including a significant reduction in overtime payments to staff.
BBC Wales has obtained copies of notes taken by an individual at an open meeting of the Welsh Ambulance Service Trust Board held in Swansea on 18 October which show a high level of frustration among board members.
BBC Wales has verified that the notes, on the whole, give an accurate account of the discussion.
The notes indicate that the meeting was told that the ambulance trust does not currently know what its final income for the the year will be, which meant it could "neither plan, nor adjust its budget".
According to the account, the board claimed it was being put in an "inviduous position by the continued refusal to set a budget - with one member going so far as to add that he would be obliged to consider his position were the state of affairs to continue".
'Important job'
The Liberal Democrats intend to table a motion for a debate on the issue by assembly members in the Senedd next week.
Kirsty Williams, leader of the Welsh Liberal Democrats, said it was "incredible" that six months into the financial year, "an organization that is tasked with doing such an important job does not know how much money its got to spend".
"Anybody running a business would know it would be impossible to do that," she said.
"So why the Welsh government thinks it's possible for an ambulance trust to run an ambulance service on the basis of not knowing how much money it's got is incredible."
Darren Millar AM, the Conservatives' health spokesman in the assembly, said it was "very worrying" that the ambulance service did not have any certainty of its budget.
"What we have here appears to be a complete shambles whereby the ambulance trust doesn't even know how much it can spend between now and the end of the financial year.
"That is an absolutely dreadful situation and it will be having an impact on how many people it will recruit, how many ambulances they keep on the road and that could have an impact on patients."
But Cathy O'Sullivan, from the Aneurin Bevan Community Health Council watchdog in south east Wales, said it was not unknown for NHS budgets to be delayed.
"We've gone well into October before we've known our budget which has not been easy and I wouldn't underplay the fact that it's very difficult to manage and plan if you don't know what your budget is going to be.
"It's not an ideal situation and it should be resolved as soon as possible.
"Patients out there should not be worried that if they pick up the phone they won't get an ambulance."
'Speedy resolution'
A Welsh Ambulance Service spokesperson said: "The trust is experiencing an increase in demand for services and we are in productive discussions with our health board partners as to how this will be managed.
"We look to a speedy resolution."
The Welsh government said local health boards were responsible for funding the Welsh Ambulance Service Trust.
"We are assured that both are committed to working together to ensure that sufficient resources are available to respond to patients who need an emergency ambulance," a spokesperson said.
They added that the health minister recently made £10m available to support emergency care services, which included £1m for ambulance service trust improvements.
Meanwhile statistics published on Wednesday showed the Welsh Ambulance Service failed to meet the target of responding to 65% of the most urgent calls within eight minutes for the fourth successive month.
In September 2012 there were more than 33,700 emergency calls, nearly 2% lower than August, of which more than 13,400 were Category A immediately life-threatening calls.
The service responded to 64.2% of Category A calls within eight minutes.